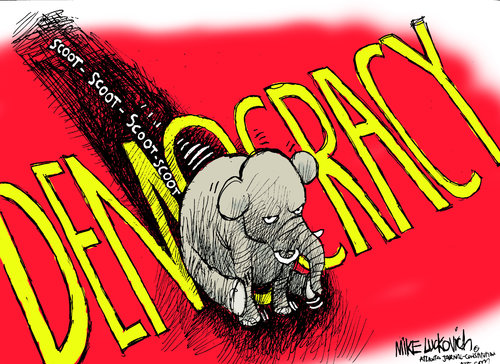 .
Okay, maybe not the most suitable graphic for breakfast reading, but too good not to share.
Also well worth reading: Lt. Col. Robert Bateman, in the Esquire Politics blog, explains where all those Beltway "anonymous sources" come from:
… When you read a news account which cites, "unnamed sources" and "a senior defense official" and "a senior military leader" and other such anonymous sources, you are often (though not always) being fed a line. A polite lie on the journalist's part, but the problem is, you have not been let in on the lie. It is a well defined pirouette between journalists, political public affairs officers in all of the federal agencies, and the professional civil servants and military officers who serve at the direction of our political leaders. What happens is that there will be a press briefing (not a conference, that is something different) during which there are two parts, the "on the record" parts, and then the "background" briefing. In a briefing usually only the standing, regular, accredited press outlets are there, and all of them operate under these same "house rules" I am about to describe. Left, Right, Center, the journalists in DC who cover the White House, State, and DoD, abide by the rules, because if they do not they will lose that most precious commodity — access…

First, a public affairs person will come to the podium and give the synopsis of the days briefings. Then, if there is an "issue" what might happen is this: (I will use DoD as an example, but the same model applies at the White House and all, depending upon the issue). The Public Affairs spokesman says, "And now I will introduce Major General Thomas J. Smith. He is the commander/program director of unit X/program Y, and he will talk to you for ten minutes about what just happened in place Z. You may ask two minutes of questions at the end. Major General Smith is to be identified as, "A senior military leader." At the White House the same process occurs with senior civil servants, and in some rare cases even deputies to cabinet members identified 'anonymously' for you, the reader. ("He is to be identified as, "A senior member of the government who is close to the President.") Then that person will basically lay out all the facts that the government cares to put forward, but which it does not want attributed to the government directly.

But in all of this you are thinking, when you read the news story, "Whoa, there is some GOOD journalism. They got person X to say Y! That proves what I was thinking." And you are probably imagining meetings in parking garages late at night, a la Woodward and Bernstein. But what has really happened, regardless of the political party in power these past 40 years, is that what you thought was a good-old-fashioned All The President's Men moment, was actually a deliberately orchestrated release of information…

That is not to say that good old fashioned reporting and investigating does not still occur. It does, and a lot of it is also done by these very same reporters, when they have the time. And sometimes there can be an anonymous source in a story who is anonymous to protect them from the very real possibility of retribution. But more often than not, at least in the DoD/State/White House stories that you read, the anonymous sources you are seeing are not really anonymous at all. All of the reporters know who they are, and they all got the same briefing. Only you have been kept in the dark…
***********
I am for some reason reminded of the old saw, "There's a mark at every poker game; if you look around the table and can't figure out who that mark is… it's you."
That being said, what's on the agenda for this week's Friday doc-dump?