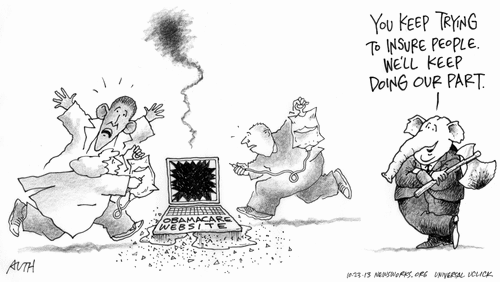 (
Tony Auth
via GoComics.com)
Professor Krugman, still shrill (and correct!):
Back in 2011, we almost had a "grand bargain" whose centerpiece would have been a rise in the Medicare eligibility age. Liberals were horrified, but it actually would have happened if Republicans hadn't balked at the idea of any revenue increases at all.

Now we learn that it would have been not just cruel and a betrayal of promises, but bone-stupid too… CBO has redone its analysis, and finds that raising the Medicare age would barely reduce federal spending.

The basic reason is selection bias: many seniors get Medicare before 65 because of disability or specific medical conditions. The ones who have to wait until the headline age are, on average, relatively healthy and hence relatively cheap.

So here's my question: will people stop talking about raising the Medicare age? My prediction is that they won't — because it wasn't really about saving money in the first place. Degrading the safety net and pushing people into more expensive private insurance weren't bugs, they were features. The usual suspects, I predict, will just keep pushing for the same thing, and dismiss the evidence.
Shrillness must be contagious, because the comments in the NYTimes seem to run deeply in favor of "Medicare for All":
pcbroborg
Why is it that things that hardly anyone wants (for instance, cuts in Social Security and Medicare) are politically inevitable while things that majorities want (for instance, Medicare for all) are politically impossible?
Reader Interactions