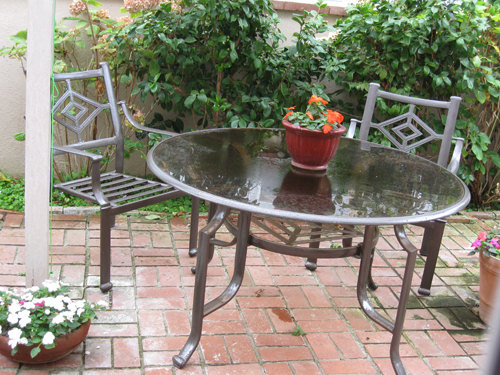 From commentor Mary G:
Some of you all may be putting your gardens to bed, but according to my own personal gardening Bible, Pat Welsh's Southern California Organic Gardening: Month by Month, October is the year's best month for planting. We have major projects underway. By this, I mean I think of things and then I watch Higgs Boson's Mate work his ass off to make them happen.

Before I get to what's going on now, probably in another post, some summer things are still going strong. This has been the best year EVER for tomatoes here. We are still picking them constantly and there are tons of green ones, new flowers still setting fruit, and new leaves. I believe this is only one or two plants, but it has taken over a huge chunk of the yard and disappears over the fence, where I think the neighbors are also being supplied. Here are three pictures of sections of the same plant taken on the same day: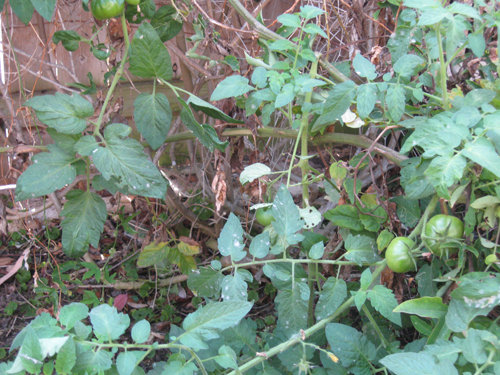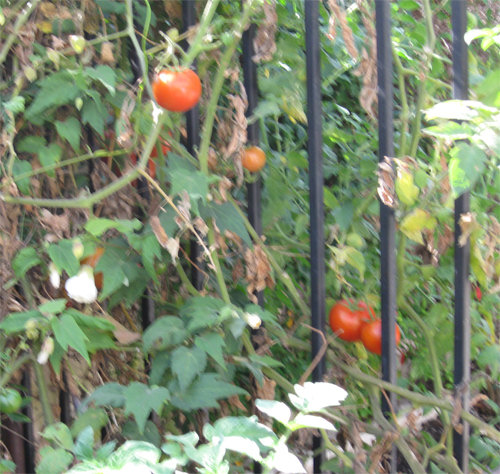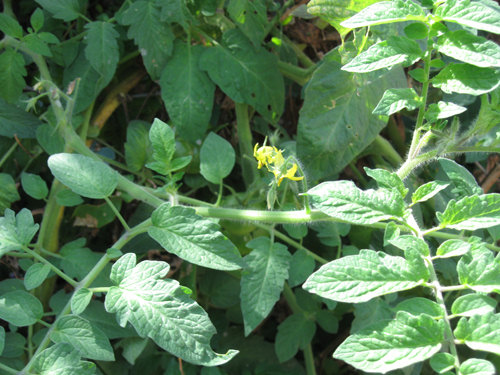 My apple tree, which is not supposed to grow here in zone 10/11 or anywhere near it, continues to produce, even though the neighbor's McMansion cut off all its afternoon sun seven or eight years ago. The leaf production is way down and every year I think it will never leaf out or flower again, but every fall there are still the same numbers of apples.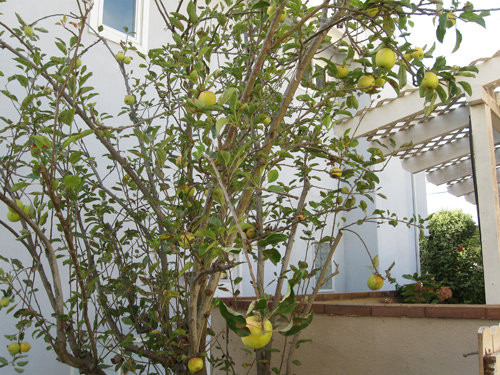 The hydrangeas have finished up after blooming all summer and the sanasqua camellias are getting ready to take over: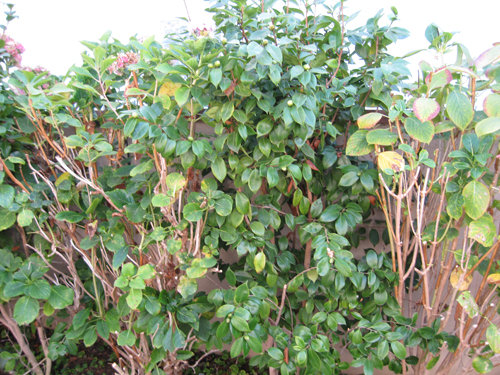 For immediate color, we got a few six-packs of rather tired impatiens on sale at Lowes and HBM potted them all up in late August or early September. They are thriving on a mix of potting soil, some vermiculite, a bit of sand and a handful of worm castings. The 99 cents store has really nice 6" clay pots right now and we are going to move some of them out into new pots because they are doing so well they are getting a bit crowded.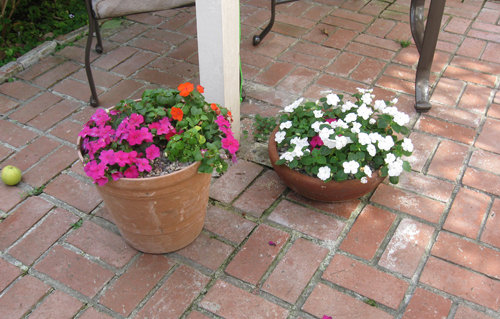 HBM has turned me onto using pea gravel for mulch; it works and looks great: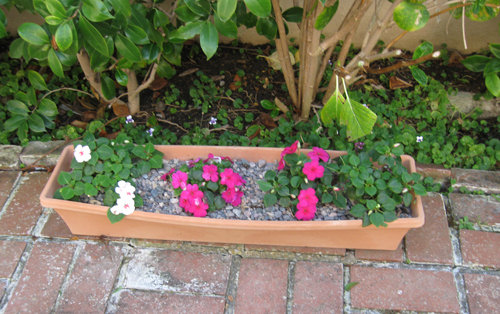 I have always wanted to grow sweet peas, but have never had any success in starting seeds, mostly because you are supposed to start them in September when it's really hot and I have never been good enough at keeping them watered. We soaked them in water overnight then nicked the seed cover before planting them.
So far, only one has sprouted, but hope remains high. HBM has been watering them much more faithfully than I ever did. If anyone has any expertise in this area, please let me know. I love sweet peas. Dark purple ones have seeded themselves in empty lots around town for years, but we are running out of empty lots and concerns for brushfires has caused the few remaining ones to be cut back earlier and earlier.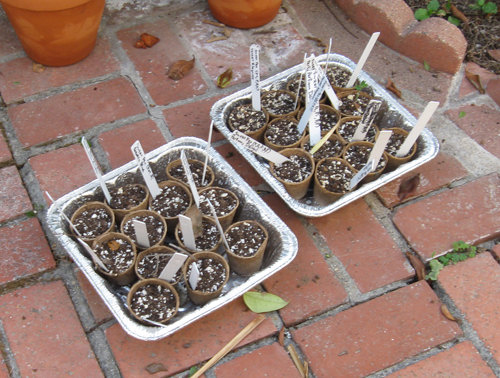 My mom and I got our patio furniture on sale at Lowes in December 2001 when I moved back here. It cost $170, but it was sturdy and comfortable and attractive, something that is kind of hard to achieve in patio furniture. It stood up pretty well for a while, but twelve years of use, with the last five years or so in total neglect, turned it into this: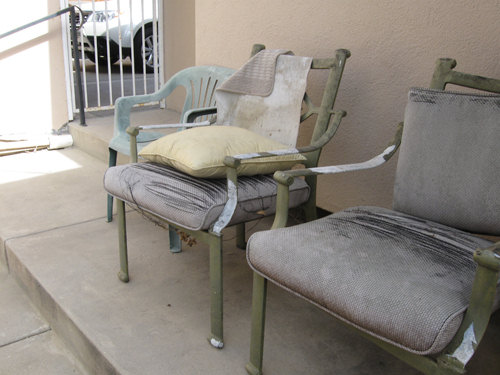 The table looked just as bad or worse, with slabs of paint hanging off it. I went on Amazon and bought a quart of this metal paint and HBM spent hours and hours with a wire brush prepping it and painting it and now it looks like the picture at the top of this post.

So for a grand investment of $37 on Amazon for the paint and two clearance beach towels to cover the cushions, and a hundred hours of elbow grease from a man whose Navy tenure made him an expert in painting stuff, I got a whole new set!

I used to have a hummingbird feeder, but it was the kind that you twist the bottom off of and my hands hate twisting things, and hanging it up was a problem. I got one on Amazon where the top just snaps off and on, and HBM rigged it up on a lanyard with the string run down to where I can reach it from a wheelchair or scooter, lower it, refill it, and hoist it back up where the neighbor's cat can't get at it.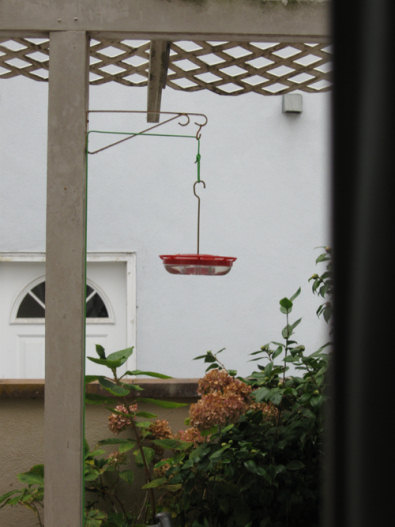 I would love to try to post beautiful pictures of multiple birds like General Stuck used to, but here we have hummingbirds that are very aggressive indeed. They slug it out until the biggest one earns rights to the feeder. When it's not eating it's dive-bombing any other hummingbird that has the gall to try to eat there too. Sometimes pair of other birds will tag-team the bully, one eating while the other is being chased off, but it works only a little while. Anyone know how to get them to get along?

When we are through working, we go places like this to relax: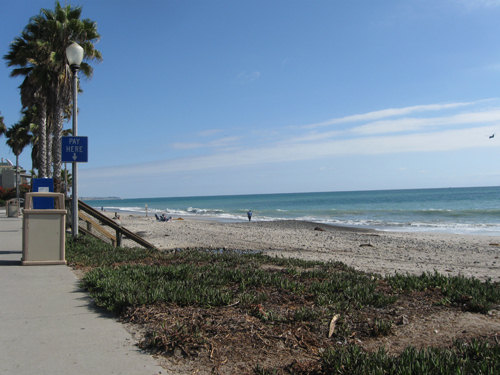 In other non-gardening news, I have gone back onto Weight Watchers and lost a couple of pounds. HBM has been walking the beach in the mornings before I even wake up, often five or more miles, and has lost about 15.

We have a second major garden project under way and a third one in the planning stages and I will try to write you again about those soon.