Oh, those Edwardians could stick the knife in so … elegantly. Thomas Seccombe on Thomas Love Peacock:
His philosophy was for the most part Tory irritability exploding in ridicule, but Peacock was one of the most lettered men of his age and his flouts and jeers smack of good reading, old wine, and respectable prejudices.
This from that insomniac's friend, the Eleventh Edition of the Encyclopedia Britannica — from the "English Literature" entry in Volume IX.
I had a conversation with Ta-Nehisi Coates in the run up to last nights events, about whether or not our current snarkalicious age is nastier, more insulting than any pre-'net political or cultural affray.  We both came to the conclusion it was not — and if you demur, then get back to me after you check out just about any random 19th century campaign cartoon: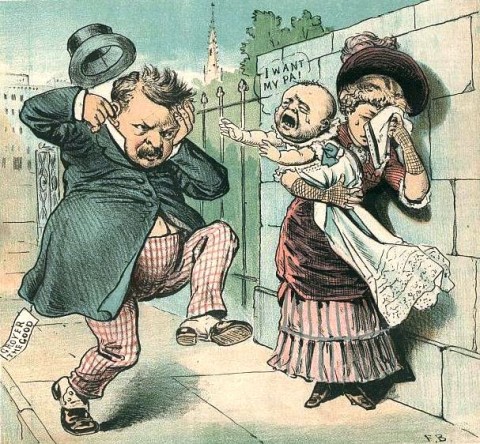 But I felt there still was a difference between then and now.   Last night's 4 a.m. reading reminded me of what it was….
Style, man.  Style:  "…good reading, old wine, and respectable prejudices."
That's poetry, that is, guv'nor.
One more thing — open thread.
Image: The Judge magazine, "Another voice for Cleveland," political cartoon in the 1884 campaign, referencing the rumors Grover Cleveland had sired an out-of-wedlock child.