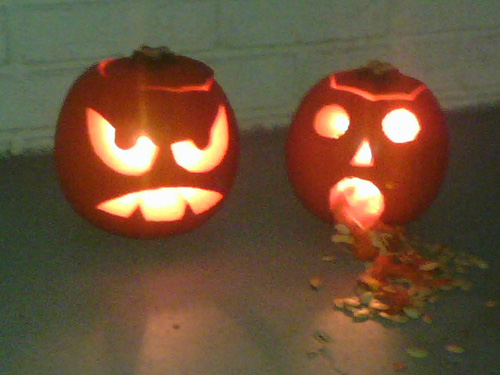 Jack-o'-lanterns are tricky in Florida. You never know what the weather will be like, and if you carve your pumpkins too soon, they will rot in the heat. It's 82 degrees today, which can also pose a risk in costume selection: My kiddo has some elaborate Doctor Who-themed thing going on, and she's going to roast.
As a boring old mom, I settled on a fool-proof costume strategy ages ago and have stuck to it ever since. If I'm staying home and handing out candy, I have this red hairband thingie with devil horns that I wear. I don't bother dressing up in any other way — I just keep wearing whatever slovenly attire I already have on that day. Suitable for all weather.
There was an incident with my devil horns a few years back, when I had to run down to a convenience store to pick up an extra bag of candy because we got swarmed by trucked-in trick-or-treaters: I forgot I was wearing the horns, and the dude at the cash register rang me up and said, "Thanks, She-Devil!" and I said, "Excuse me?" in a perplexed and mildly offended voice and he said, "You know, your horns?" and I said, "Riiiight! Sorry!"
My other go-to Halloween attire is only resorted to when my sister and her partner throw a Halloween party. These tend to be rowdy affairs with no less than half a dozen sets of (all male) Sonnies and Chers, which gives you insight into the demographic.
Anyhoo, since multiple Sonny and Cher karaoke duets are only tolerable with the assistance of alcohol, I've learned to wear pajamas as my costume. I buy a new set each Halloween when there's a party, plus slippers, adjusting material and coverage to suit the weather, and including a bathrobe that can be worn or stored as necessary. Then I just crash out on the couch or in the spare room if unoccupied until I'm sober enough to drive home the next day. It works out brilliantly.
This Halloween, it's devil horns only (well, and CLOTHES, of course!), and I'm a little sad because we're being deserted by our own kiddo, who is joining friends in a neighborhood that is judged more likely to yield quality candy. Le sigh.
What are you up to for Halloween?
*Edited slightly to decrease unintentional salaciousness.