Here is another treat. Another reason why I love my fraternity boys- I've drilled it into them that they aren't just part of the college, but part of the town, so they help out at town events whenever they are needed. Here they are decorating the church for the annual Halloween party last night and then tonight, running the costume contests and cleaning up after. Just good kids: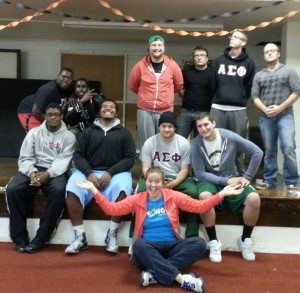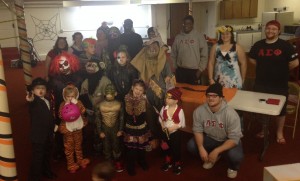 The kid in the second picture popping off a cap Boardwalk Empire style just cracks me up. His real name is Nelson, and during the costume contest he went on stage and called himself Babyface Nelson. That kid and his parents are full of win.
I did the usual routine of giving out candy and trying to make sure Rosie doesn't escape when I open the door. It was rainy and crappy, so I had half as many guests this year as last, so at the end I was basically shoveling candy into baskets just to get rid of it all.
Steve was quite the stud- he cameto the door and peeked his head out every time someone knocked and I think I heard "Woah that's a big cat" and "Wow look at his paws" twenty times. I'm beginning to think his former owners had a daughter, because every time a little girl came to the door, he rushed over to her and demanded to be petted and got super affectionate. It was really cute.