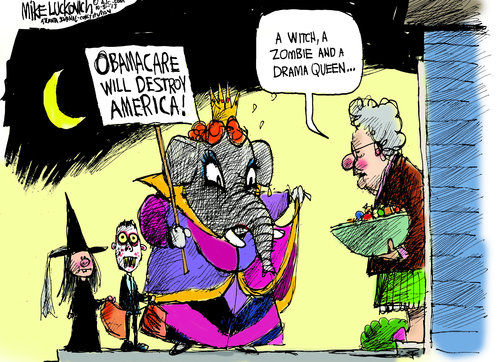 (Mike Luckovich via GoComics.com)
.
For your other Halloween leftovers, commentor Origuy points out that Operation Gratitude will gladly take all that calorie-laden sweetness off your hands and send it to our soldiers in Afghanistan. (They also take dental products, if you prefer.)
Neil Irwin, at the Washington Post Wonkblog, explains why it's such a problem that "Rich people think the economy is doing just fine":
… The American Affluence Research Center surveys families in the top 10 percent of net worth twice a year, selling studies on, for example, their opinions of various luxury brands that might help marketers. Along the way, they ask how these rich families are feeling about the economy.

Pretty good, is the answer. The survey's economic sentiment index is up to 93 this fall, rising 22 points since the spring. It's also the highest since the fall of 2007, before the recession began, when it was at 108. The researchers, who survey 327 affluent households, consider an index above 100 as a "positive" view of the economy and the 93 level as "neutral". Still, surveys of the rest of the masses of Americans reveal views on the state of the economy that are anything but neutral…

… In the last couple of years, any sense of urgency around getting the economy on track has almost disappeared within Congress. In last year's fiscal cliff debate, for example, there was no strong push from either party to extend a payroll tax holiday or find another mechanism to help out low- and middle-income workers. The debate over the latest fiscal bargaining is all about how to reduce the deficit, with little discussion of interim measures to try to boost growth.

Members of Congress tend to be relatively wealthy themselves, and tend to associate with big donors and other prominent folks who would also fit in the researchers' survey definition. And to those people, the economy is pretty much back. This helps explain why Congress has seemed less interested in finding ways to propel stronger growth than the overall surveys and economic data would suggest…
I for one can see why Dan Savage chose to highlight a (probably too optimistic) interview with a staunch "old school" progressive blogger:
Duncan Black's neighbors probably can't hear him tapping away on his laptop in his Philadelphia row house, but he has been doing his best to become Townsend's modern heir. An economist and former college professor, Black—who goes by the pseudonym "Atrios" online—is one of America's most popular political bloggers; his typical output consists of short, snarky quips on the news from a liberal perspective. But in late 2012 he embarked on a sustained crusade, on his blog and in a series of columns for USA Today, to inject a single idea into America's policy discourse: "We need an across-the-board increase in Social Security retirement benefits of 20 percent or more," he declared in the opening of a column for USA Today. "We need it to happen right now."…
***********
Apart from sugar hangovers, what's on the agenda for the end of the standard work week?