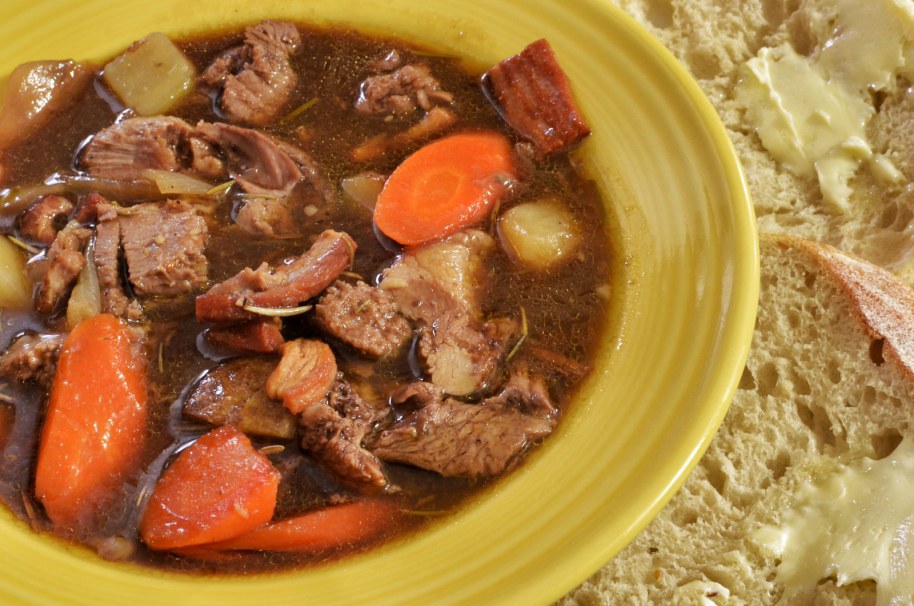 From our Food Goddess, TaMara:
Phew, almost forgot about the recipe exchange – was out house hunting and lost track of time.

I am just not sure how it got to November 1st already. I am not ready for the holiday season to begin. I am thinking about Christmas Eve dinner menu, though, because I am hosting again this year. Suppose to visit family for Thanksgiving, but that may not happen, so I might have to begin to think about that menu, as well.

BTW, in case you missed it – and if you visited the blog anytime in the last week, how could you have – my beloved Boston Red Sox are World Series Champions.

I decided it was stew weather. When things get chilly and busy, stew is one of those things I love to have slow cooking when I get home in the evening. In my mind, stew is best when it's simple: meat, potatoes, carrots, turnips or rutabaga, onions, salt, pepper and a bay leaf. But I understand that there are as many stews as there are families who enjoy them. With that in mind I have a few recipes and the featured recipe will be a simple one that you can add anything to that suits your fancy.

Let's start with the Dinner Menu this week, which is Spicy Chicken Stew and Sweet Potatoes with Apples (click here).

Tes at Home had a Beef Stew with Apples, link here.

I have a Beef Stew in Wine with both pressure cooker and slow-cooker instructions here.

And finally JeffreyW does a Guinness Lamb Stew, pictured above and recipe here.

What's on the menu for the weekend? How do you dress up your stew recipes? Hit the comments and share your tips.

Now for the featured recipe with bonus biscuits:

Beef Stew

1 lb chuck, cut into 1 inch cubes
1 tbsp oil
1 small onion, quartered
4-6 small potatoes, quartered
2 small turnips or rutabaga, peeled and quartered
8 oz baby carrots, halved
pinch of rosemary
2 bay leaves (remove before serving)
½ tsp ea. salt & pepper
7 cups water
2 tbsp flour
slow-cooker, skillet

Heat oil in skillet and brown beef (you can do this the night before and refrigerate with all the pan drippings). Place meat, onion, turnip or rutabaga, potatoes, carrots & spices in the slow-cooker, add 6 cups water and cook according to slow-cooker directions, (usually 8 to 10 hours on low). Before serving, turn heat to high, mix 1 cup water and flour completely, add to stew, stirring constantly, and cook additional 10-15 minutes.

Wheat Biscuits

1-1/2 cups white flour
1/2 cup whole wheat flour
1 1/2 tbsp baking powder
3/4 tsp salt
1/3 cup shortening
3/4 cup milk
large bowl and baking sheet

Mix dry ingredients together, cut in shortening, add milk. Stir quickly with a fork until completely moistened, don't over mix. Knead gently on floured surface for 10-12 strokes. Roll out to ½ inch thick, cut into biscuits. Place on baking sheet and bake at 450° for 10-12 minutes, until golden brown.