Most people are minimally impacted by Obamacare as they already get their insurance through an employer, through the government or have solid individual coverage. The next largest group of Americans are impacted by Obamacare as they'll be gaining access to coverage.  They're better off.  Then there are two small groups.  The first is a group who has decent individual coverage but may or may not be better off with the improved coverage mandates of Obamacare.  These situations will vary by individual income and thus subsidy status, state and health status.  The other group are the clear losers of the policy changes.  They have individual coverage that is being cancelled and Exchange coverage is more expensive.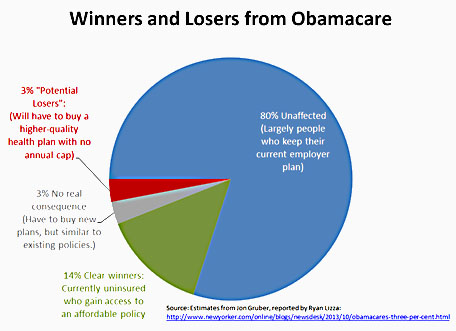 So what types of plans are in the "Potential Loser" bucket?
Let's go back to a post on Premium Bullshit for a quick review:
Arkansas: $26 per month for a $25,000 deductible 23% applicants denied. 28% uprated.

Ohio:  $25,000 deductible, 19% denied, 17% uprated.
Let's look at a the Arkansas plan in some more detail, as we go to page four to see what is not covered.  I'll highlight some of the more unusual things that are not covered.
Maternity coverage on the base plan.
Maternity coverage or pre-natal care within the first twelve months of purchase of the maternity/pregnancy rider.
Any pre-exisiting condition for an adult within the first twelve months of purchase
A similar plan on the same information sheet has additional limitations.  The HSA plan does not cover mental health treatments or prescriptions.
This is an extreme example.  The Ohio plan in the link above is similar in that it excludes maternity care and pre-exisiting conditions but it does cover mental health needs.
Individuals with these types of plans, or basically any individual product that is medically underwritten, excludes maternity care and has a deductible over $10,000 is almost guaranteed to face sticker price rate shock as these plans don't even come close to meeting minimal Obamacare standards of insurance.  If the person facing sticker price rate shock for a basic Bronze or a Catastrophic plan is making under 250% of Federal Poverty Line, they'll probably break about even as they move into an Exchange Bronze or Exchange Catastrophic plan.  If they make more than 250% FPL, they most likely are getting much better coverage (that they individually probably  don't need as they demonstrated no history of medical need) at a significantly higher post-subsidy price.  And for the individuals in this bucket who make more than 400% FPL, they are guaranteed to face rate shock.