.
MOAR LIGHTS, more fireworks, more sugar — perfect holiday. Please forgive me if I'm jumping the starters' pistol here…
(CNN) — Fireworks boom, bulbs flash, and flames flicker as tens of millions of people across the globe celebrate the beginning of the Festival of Lights.

Diwali — from the word Deepavali, meaning "row of lights" — is observed by Hindu, Sikh and Jain communities, who celebrate for five days in autumn to mark the victory of light over darkness.

This year, the festival begins on November 3, with splashes of color, lighting displays and blaring parties set to greet Diwali's arrival.

Celebrated for centuries across much of the Indian subcontinent, Diwali is now exploding: spreading the promise of wealth, knowledge and happiness to new communities across the world…

Fireworks are said to drive away evil spirits and, at this time of year, many Hindus will also clean the house and light small oil-burning lanterns to attract Lakshmi, the goddess of wealth into the home.

But the celebration is anticipated with excitement by many across India — as well as neighboring Sri Lanka and Nepal — regardless of religious beliefs…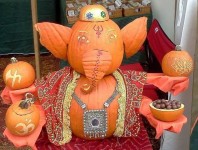 From the 'Dewali in Boston' Facebook page
.
.
.