We live in the Potomac Highlands of WV, and the weather has turned cold with a hard freeze predicted in a few days, so it is time to say goodbye to the remaining garden plants, mostly tomatoes. No need to let the greens go to waste, though, or spend any unneeded effort. It took me ten minutes to put up the portable electric net fence and let the goats have at it. These two pictures were taken less than 24 hours apart.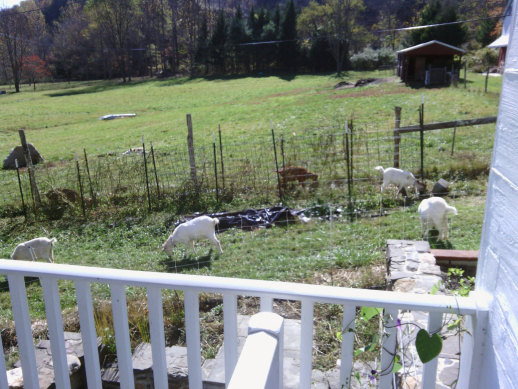 ***********
Wish I could turn goats (or at least the urban robot version) loose on my so-called garden. It's November and we haven't quite had a killing front here north of Boston, but it's visibly time & past time to stop pretending the last stubborn cherry tomatoes and Cherokee Purples in the driveway planters are going to ripen any more fruit. This year was an #epicfail for the morning glories, too. I put in a couple transplants every May, and usually they send out rampant vines before finally starting to flower around Labor Day, but this year two of the three seedlings died post-transplant and the survivor put out exactly one blossom… on Columbus Day. And now I've got about a leafbag full of slimy dead plant material to strip off the shepherds crook in the front yard. (I know, it's crazy to encourage an overbred version of bindweed anyway, but the Spousal Unit loves the blue flowers.)
What's going on in your gardens this week?