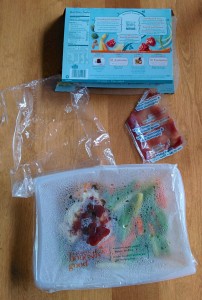 I was raised by a Depression baby so perhaps I'm more sensitive to this kind of thing than most. But I can't help thinking that when the Edward Gibbon of some future generation, or the scribe of our conquering alien overlords, writes the chronicles of our decline and fall, the packaging of Lean Cuisine "Honestly Good" meals will figure prominently. To convey 390 calories from an industrial processing plant to my gullet, Nestle required a plastic dish with a clear plastic top, wrapped in another layer of plastic shrink wrap, accompanied by a plastic sauce pouch, encased in a remarkably sturdy cardboard box. Could any more non renewable resources have been wasted on this product? Probably, but it's hard to see how.
By the way, the packaging effort was more-or-less wasted. The sauce, as with most pre-prepared food was too sweet and too much. They could have done with half of it. The rest of it was the usual meh frozen dinner.
Consider this an open thread. Hopefully the database issues we had this morning are past us.