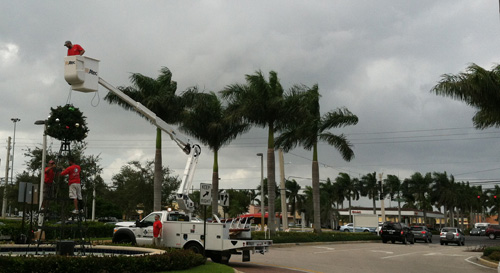 I've just returned from a perfectly lovely mini-vacation in the Keys. How lovely was it? So lovely that even the Gators' allowing a sub-par Georgia team to beat them like a circus monkey for three quarters only to attempt and fall short of a come-back couldn't prompt more than a brief frown. So lovely that even the hapless Tampa Bay Bucs' blowing a 21-point lead in an epic fourth quarter collapse to remain winless couldn't elicit more than an incredulous guffaw.
The Keys (the middle part, anyway) are even more overrun with iguanas than they were last time I visited. I spent much of my time lolling in a hammock, from which I could observe a clump of scrub palms that seemed to serve as the hub of local iguana operations: They issued forth from this cluster of vegetation to stalk insects all over the property.
It was too windy to boat or fish (in my opinion — others differed!), so I read, lounged, ate gourmet fare mostly prepared by people who were not me, drank champagne and wine, played games and paid absolutely no attention whatsoever to news or politics.
On this trip, I was vacationing with friends rather than family, which is unusual for me. When I got home and flopped on the couch, my dogs (who weigh around 60 pounds each) came up on the sofa and sat on me for an hour or so to make sure I was really staying. My daughter showed me this hideous concoction she had made with homemade icing and candy corn that was supposed to resemble corn on the cob. Luckily, I wasn't expected to eat it, given my delicate post-vacation condition.
Looks like we've been having some technical difficulties, maybe? Or could be just me? Anyway, what's new?