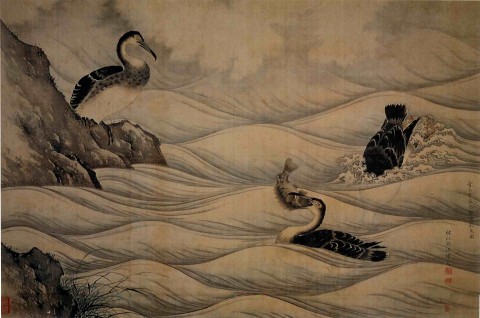 Someone somewhere on the web (maybe here?) said last night that they thought it would be perfect  11-D chess — 2016 style — if the Kenyan Muslim Usurper (D-Acorn) called Governor Chris Christie to congratulate him on his victory.
Well…
White House Spokesman Jay Carney told reporters that Obama was happy to call Christie after the two worked together on Hurricane Sandy relief. [via TPM]
And just to show that the President (and his team) have not lost a step since November 6, 2013, there's this:
"Obviously he and the governor have spent a lot of time together," Carney said. "The president was glad to congratulate him on his victory."
What's that I hear? The Cruz, Paul, Rubio, Walker, Cain, and Stassen oppo teams all downloading this picture?
As for me — I'm left with the Yogi accolade.  Our president is smarter than your average bear elephant.
Image: Yūhi, Cormorants catching fish, 1755.