Yeah, we've talked about the subject before, but never this particular clip (I hope). Saw Gene Rodenberry on the college-lecture circuit in 1973 or '74, when we all could still thrill to the naughtiness of "After the pilot, the network suits told me I had to get rid of either the female second-in-command or the alien. So I kept Mr. Spock and married Majel Barrett, because in California it's illegal to do it the other way around!"
Also, Cher — always a delight, per Rebecca Nicholson in the Guardian:
… This, for instance, is her current Twitter biography:

Stand & B Counted or Sit & B Nothing. Don't Litter,Chew Gum,Walk Past Homeless PPL w/out Smile.DOESNT MATTER in 5 yrs IT DOESNT MATTER THERE'S ONLY LOVE&FEAR.

Her tweets are a riot of politics, bemusement, CAPS LOCK and emoji symbols… Our chat today involves advice for Miley Cyrus, the perils of Grand Theft Auto and a lengthy story involving Salvador Dalí, an orgy and chocolate clocks…

…[B]ack in 1989, when Cher was straddling a cannon in the Turn Back Time video ("so tame in comparison to now"), the concept of a tween fanbase didn't exist. Should Miley and Rihanna, for example, care that their 10-year-old fans are watching them perform half-naked? "I don't think the naked part is the problem," she insists. "Unfortunately, what happens now is that kids are exposed to everything that's too old for them. You know, since the internet, since horrible PlayStation, you know, what's the name of it? Hijack car … that car hijack thing? I think maybe that is worse than seeing Miley Cyrus on a wrecking ball. Also, she's trying to break the Disney stuff. When you make such an image, you have to hit it with a hammer. Or a sledgehammer!"

At the time of Miley's MTV performance, Cher was drily scathing: "I don't think it was her best effort." But she says now that she'd been doing interviews all day, "then somehow, I started liking the sound of my own voice pontificating. And finally I thought, this is shit, you know? Get off this kid. It was one performance. It turned out to be the greatest stunt of all time 'cos people are still talking about it. She doesn't give a shit what I think, anyhow."…

Cher is at her most angry when talking politics. She thinks what is happening to women in the US is "terrible … we've lost all of our rights. They couldn't do it federally, so they're taking it away state by state. I don't recognise my country," she says, sadly. "That's not funny to me at all. I don't know what the fuck happened. These people [the Tea Party, whom she regularly refers to on Twitter as "t-hadists"] hijacked it, and they're bringing down the prestige, and the dollar, for whatever it's worth."…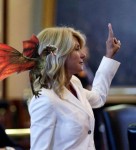 And speaking of standing up to the Teahadists: Next year Wendy Davis will have a book to sell:
… Ms. Davis, a candidate for governor in Texas, has signed with Blue Rider Press, an imprint of Penguin Random House, to write a book about her personal life and career, the publisher said on Thursday.

"Everyone deserves to have a say in their future," Ms. Davis said in a statement. "I hope telling the story of how I went from being a single mom to serving in the Texas State Senate to running for governor will remind others that with the right leadership in government, where you start has nothing to do with how far you go."
***********
Keeping that idea firmly in mind, what's on the agenda for the start of the weekend?