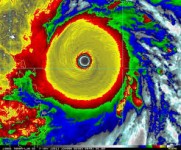 It's too early for accurate estimates of the devastation by the typhoon that hit the Philippines yesterday, but according to early reports, there were 40-foot storm surges. Photos coming in this morning show unbelievable destruction from one of the most powerful storms to ever make landfall.
According to this NYT article, there was one bright spot: The storm moved so quickly that it didn't deluge the islands with as much rain as a slower-moving storm would have. Also, many people did get out of its path: around 790K according to government estimates.
The storm is due to hit Vietnam tomorrow. Da Nang and Hue, major population centers, are in the projected path, according to the Times article linked above. Save the Children is one of many organizations collecting funds to help the survivors. Please feel free to call out other relief organizations in comments.
Open thread.