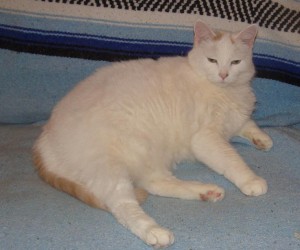 I've been crying on and off all day because today is the four month "anniversary" from Tunch's death. I don't know why, but I went back and read the original RIP post, and it just made me cry more. I just can not believe he is dead, and it has been four months. I still think about him every day, the magnificent fat bastard. I simply have no idea how people who lose children recover, bless their hearts.
In other news, it is really hard to remain despondent when you have Steve driving you insane all day long. He somehow managed, with his tennis racket mitts, to shoot molten shit and kitty litter out of his litter box and stuck it to the wall and got it into the carpet in the corner of his bedroom. I was sitting here watching a little tv before the Pens/Flyers game, and this green fog of vile came wafting into the room and almost knocked me out of my chair.
I went in and checked, and found Steve's, umm, mess. Most annoying is that I changed his litter this very morning, so he was just getting all motivated with burying his bizness, I guess. It was in the corner, so I couldn't use the spot bot and had to get a bucket and brush and do it by hand, which just made my god damned night.
And, because I know my place, twenty minutes later Steve was on my lap lavishing me with affection, and I just got done brushing him, which I think I like more than he does.
Cats. How does anyone go through their life without one in the house?
I love this picture: