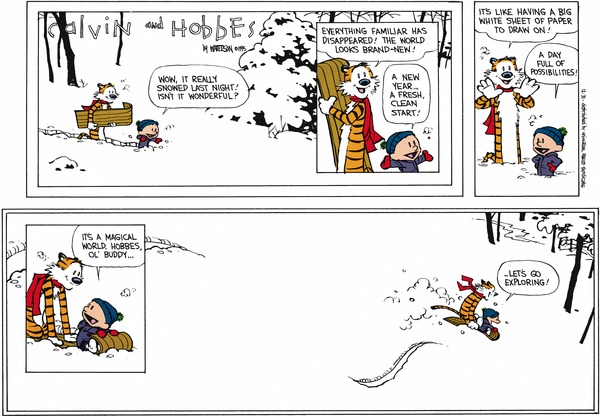 (Bill Watterson via GoComics.com)
.
The documentary "Dear Mr. Watterson" finally opens this weekend — the website has a list of showings, video-on-demand details, and purchase offers. (I'mma buy the DVD, because I'm old & staid.) You pretty much know whether you'll be watching this already, but Andrew O'Hehir reviews it for Salon:
… Any "Calvin and Hobbes" fan will enjoy watching Schroeder's film, which is more a love letter to the strip and its publicity-shy creator than anything else. "Dear Mr. Watterson" is a work of charming reportorial energy, in which Schroeder (who wrote, directed and edited the movie) interviews many prominent fans and friends of Watterson – including "Bloom County" cartoonist Berkeley Breathed and actor Seth Green – and handles original "Calvin and Hobbes" artwork now in a comics archive at Ohio State. Schroeder's passion for the material comes through clearly, and he correctly identifies a note of ruefulness – a sort of American-Zen reflection on the ephemeral and transient nature of all experience – that runs through Calvin and Hobbes' adventures even at their most joyful…

But Schroeder isn't much of a comic-strip expert or historian, by his own admission, so "Dear Mr. Watterson" bounces off many of the most interesting issues in and around "Calvin and Hobbes," noticing them but not exploring them deeply. As various of Watterson's fellow cartoonists point out, "Calvin and Hobbes" was the last in a historical line of fanciful or allegorical newspaper comics that attracted a large popular audience while pushing at the artistic and conceptual limits of the form. This tradition goes back at least as far as Winsor McCay's "Little Nemo in Slumberland" (which debuted in 1905) – a major formal and structural influence on Watterson — and then continues through George Herriman's "Krazy Kat" and Walt Kelly's "Pogo," still viewed by comics devotees as the two greatest newspaper strips of all time. Like each of those three pioneers, Watterson treated the full-color, large-format Sunday comic as a zone of free-form experimentation, insisting on full editorial control.

I think that context is crucial to understanding Bill Watterson, and what he did and didn't do. He was a struggling editorial cartoonist, nearly unknown outside northeastern Ohio (his hometown is called Chagrin Falls, which has to be one of the greatest American small-town names), when he suddenly leapt to fame with "Calvin and Hobbes," which became an international hit within a year or two. He had the opportunity to become immensely rich off his strip and its characters – one industry expert in Schroeder's film suggests that licensing and merchandising could have brought in $300 million or more – and refused to license anything, ever…
***********
Apart from what the Japanese call "visual culture", what's on the agenda today?