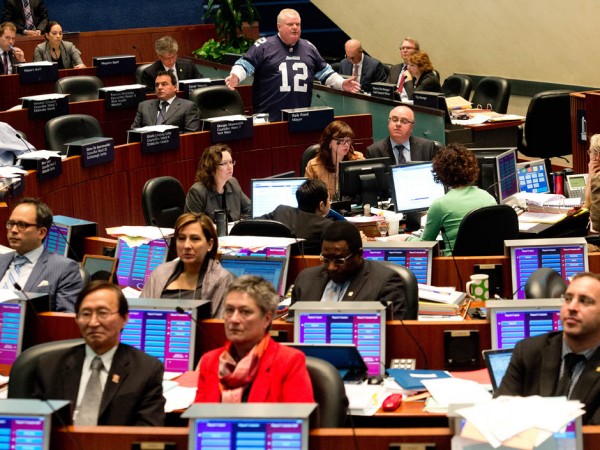 This shot of Rob Ford bloviating while the Toronto City Council turns its back on him has to be one of the oddest political photos ever taken. Unfortunately for the council members, it sounds like there's no impeachment clause in their charter, so they are left to pass sketchy resolutions in an attempt to put Ford in the corner:
On Friday, council voted 41-2 to take away Ford's power to make decisions without council's consent during emergencies and 39-3 to prevent him from firing councillors as committee chairs.

An even harsher motion slated for Monday's council meeting aims to transfer to Deputy Mayor Norm Kelly "all powers and duties which are not by statute assigned to the mayor" and to transfer the mayor's office budget to the deputy mayor.
Nobody puts Rob in a corner, so Ford has hired George Rust-D'Eye, one of Ontario's leading experts in municipal law, to fend off this attempt to strip him of his power.
Update: Forgot to mention the latest: Ford probably beats his wife.