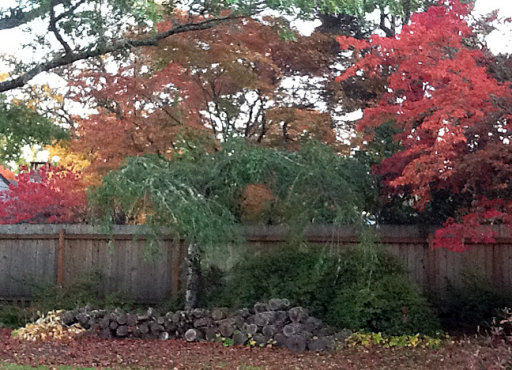 .
From faithful commentor Marvel:
The Fall garden is making its slow progress (read: not dying; not growing; just an elaborate outdoor veggie storage system).

What's got my eye lately, though, continues to be the spectacular Fall colors available wholesale all over the Willamette Valley. It's as though the specter of weeks on end of bare limbs and muddy fields prompts the trees to send out one last Valentine to ensure our affection through the coming dreary months — a last romantic walk in the park with a Summer love….

Makes me jump out of bed and fling open the drapes every morning, u-bet.
***********
More prosaicly, I need to do a bunch of leaf-raking (last yardwaste recycling pickup until April is Thursday) and then give the grass one more trim before storing the mower for the winter. Ergo, predictions call for the first serious rain in our area since August…
What's going on in your gardens this week?