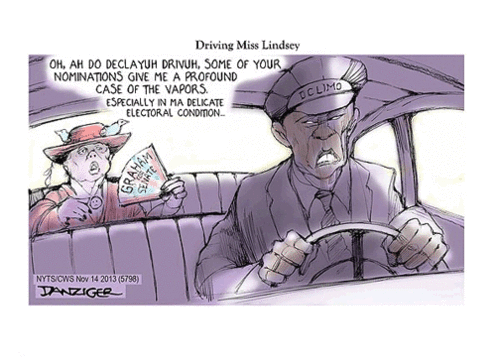 Greg Sargent, at the Washington Post:
With Senate Republicans blocking a third Obama nomination to the powerful D.C. Circuit Court of Appeals, a senior Senate Democratic leadership aide tells me Reid is now all but certain to move to change the Senate rules by simple majority — doing away with the filibuster on executive and judicial nominations, with the exception of the Supreme Court – as early as this week…

"Reid has become personally invested in the idea that Dems have no choice other than to change the rules if the Senate is going to remain a viable and functioning institution," the aide says. That's a long journey from where Reid was only 10 months ago, when he agreed to a toothless filibuster reform deal out of a real reluctance to change the rules by simple majority. Asked to explain the evolution, the aide said: "It's been a long process. But this is the only thing we can do to keep the Senate performing its basic duties."…
Take it away, Mr. Pierce:
… It's time, Harry. Really, it is. I was on the other side of this issue for a very long time because I didn't want to confront the possibility of Majority Leader Mitch McConnell with the unlimited power to do anything that President Scott Walker wanted. That kind of thing still gives me pause. But this business with the judges has long passed over the International Fk You Line. One of the reasons we elect presidents is because we approve en masse of that president's philosophy toward the law. This means we elect him so that he can appoint federal judges who will be sympathetic to that philosophy to the federal bench. For going on 40 years, we have seen a long march of conservatism in the federal judiciary, especially at the appellate level, where nobody's really paying attention until, say, Janice Rogers Brown or someone hands down a decision making thumbscrews legal if the police are acting in good faith. It is not a great stretch to argue that this president was elected (twice) at least partly to reverse the results of that long march. That he is not being allowed to fulfill that part of his mandate does not merely obviate the power of the popularly elected majority in the Senate, it obviates the stated wishes of the entire nation by obviating the power of the popularly elected president of the United States. This is mucking around with two of the three branches of the federal government in order to work your will in the third. Moreover, it hamstrings future presidents who might share that judicial philosophy by blocking the career paths of like-minded judges. And does anybody seriously believe that the Republicans will not do exactly the same thing if a seat on The Big Court comes open? Please….