Looking at the New York Times this morning, it appears those awful Democrats are getting ready to destroy the comity that has long prevailed in the Senate:

Here's a little taste of that story:
While Democrats filibustered their share of judicial nominees when they were in the minority under President George W. Bush, including people named to the powerful District of Columbia appeals court, what Republicans say they intend to accomplish goes beyond simply blocking a vote. Their goal is to reshape the nation's most powerful appeals court by shrinking it to just eight full-time judges. By law it has 11 judges who regularly hear cases.
If you aren't concerned about doing double twisting backflips to get a "both sides do it" narrative, you might do a quick Google search to find that the percentage of nominees confirmed to federal courts at this point in the Obama administration is far lower than the percentage at the same point in the Bush administration. But the Times can't be bothered to do that, because bipartisanship, so instead they narrow the focus to whether the Democrats filibustered "their share" of appointees, whatever that means.
Of course, the headline and slug of the top story of the day skips the editorializing and just presents the bare facts of Republican obstructionism. Apparently the multi-year attempt to nullify Obamacare is bipartisan enough for the Times: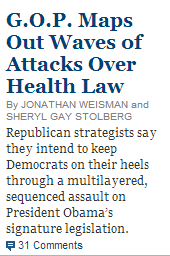 This is why I don't subscribe to the Times.