Weapon industry lobbyists drafted a stand your ground law for Ohio. It passed the lower chamber in this state last week:
Opponents including black legislators, youth and church groups decried the dangers of an Ohio "stand your ground" self-defense proposal on Wednesday, as the expansive gun measure cleared the state House. Protesters at one point interrupted the lengthy debate, their shouts gaveled down by House Speaker William Batchelder, before the measure passed on a 62-27 vote. It now goes to the Senate.
Under current law, residents need not retreat before using force if they are lawfully in their homes, vehicles or the vehicle of an immediate family member. The measure would expand the circumstances where the use of force trumps the duty to retreat to public settings, such as stores and streets.
Industry lobbyists (both paid and the volunteers) will say that they are making only minor changes to self defense laws, but that is not true. This is what the changes to long-standing Ohio self-defense law actually look like. The traditional definition of self-defense is lined-thru and the new definition of self defense follows the part that lobbyists deleted:
Sec. 2901.09. (A) As used in this section, "residence" and "vehicle" have the same meanings as in section 2901.05 of the Revised Code.

(B) For purposes of any section of the Revised Code that sets forth a criminal offense, a person who lawfully is in that person's residence has no duty to retreat before using force in self-defense, defense of another, or defense of that person's residence, and a person who lawfully is an occupant of that person's vehicle or who lawfully is an occupant in a vehicle owned by an immediate family member of the person has no duty to retreat before using force in self-defense or defense of another if that person is in a place that the person lawfully has a right to be.
The bill also lowers the standards across the board to where we'll now issue concealed carry licenses to just about anyone who shows up and also allow these newly-licensed gun enthusiasts to patrol just about anywhere with only 4 hours of training. Apparently 12 hours of training before they appoint themselves as roving fake-police in "stores and streets" was too much of a burden for them:
Eliminate the requirement that a person reside in Ohio to receive or renew a concealed handgun license;
Eliminate the current 12-hour training requirement, substituting a minimum of four training hours in the safe handling and use of a firearm;
The Buckeye Firearms Foundation pushed the Stand Your Ground law in Ohio, along with the reduced training requirement. This weapon industry lobby group are famous for raising money to buy George Zimmerman some additional firepower after Zimmerman shot and killed an unarmed 17 year old: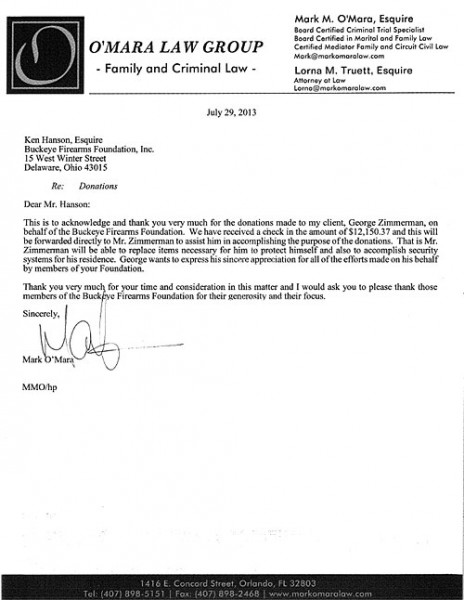 Zimmerman is the brave gunslinger who has been the victim of a truly remarkable (and, frankly, completely unbelievable) series of unprovoked attacks by the following people: his former girlfriend, a law enforcement official, a 17 year old boy, his wife and/or his elderly father-in-law and, most recently, another of his girlfriends.