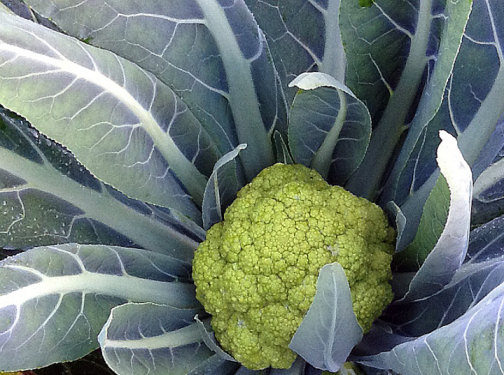 .
From faithful commentor Marvel:
Here in the Willamette Valley, we're squaring away the last of our Fall chores. The days alternate between cold & drizzly and sunny & brisk (often during the same day).

We've pulled up the last of the root veggies — a few small bites out of some I had harvested recently motivated quick action on our part. The carrots, beets & parsnips are presently resting safe & sound in a few oversized crispers. BTW: Beneath the carrots & beets in the photo, you can see the tyfon (a stubble turnip) cover crop we've been using for the last several years in an attempt to convert a barren, clay-y space ("Area 51") into a patch of productive soil — I think it'll be ready for planting this Spring.

The purple cabbage and green cauliflower are glorious (they're several beds removed from the one the field mice found) — we don't intend to share these lovely gems with our furry neighbors, so they'll be off to chilled storage this week.

The kales & garlic are happy in their 6-mil poly cloaks and the tender stuff (herbs, lettuce, spinach, chard & assorted bonsai) will wait out Winter in the greenhouse.

Have a warm & wonderful thanksgiving!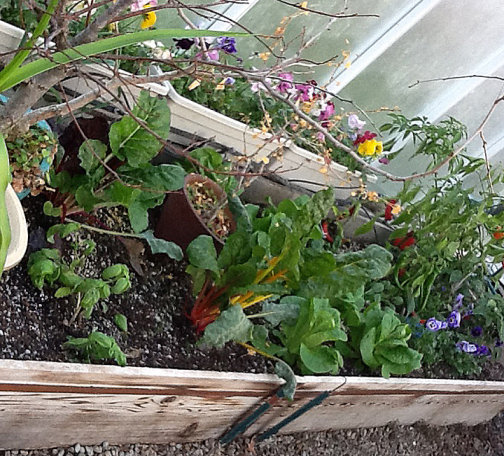 ***********
Unless I hear from some warm-weather commentors (or indoor gardeners with photos to share) this may be the last Garden Chat until we can start talking about seed catalogs next March. Maybe I should solicit pet stories to fill in the Sunday-morning gap?
What's going on in your gardens this week?