Longtime commenter Unabogie passes on this picture of his best buddy Fergus, who passed on after a glorious 20 years, and, in fact, Fergus was around during the Clinton era and was a DD (Democratic Dog) while I was still an asshole Republican: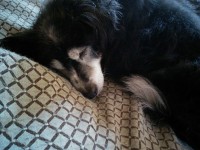 You can just tell a good doggie when you see one, can't you? Happy tails Trails, Fergus!
*** Update ***
PS- Akismet is freaking out, so some comments may be temporarily delayed. Please just chill the most.