So the mister, daughter, dogs and I traveled to the family redoubt on the Suwannee River for the holiday, reserving the use of a camper for ourselves, and guess what? We can't get the fucking heat to work. And it's like 40 degrees now with a low of 28!
Since it's a camper, there's no fireplace either, though there is a fire pit, beside which I've ensconced myself: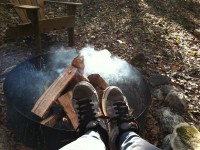 We have scads of relatives around here, but due to the influx of visitors plus Byzantine pet considerations, it appears we'll have to farm the kiddo out, and the mister, the dogs and I will spend the night in an unheated camper. We've been in touch with various kin who are engineers, electricians and HVAC specialists, but to no avail thus far.
The mister and I have therefore deployed our alternate strategy, i.e., alcohol. (FSM bless and keep valued commenter Betsy, who passed along the homemade cider recipe keeping me tolerably warm and in good spirits now).
For tomorrow, we're in charge of the turkey, which is currently brining in a cooler. If it doesn't freeze, we should be okay. At least we have a nice view: