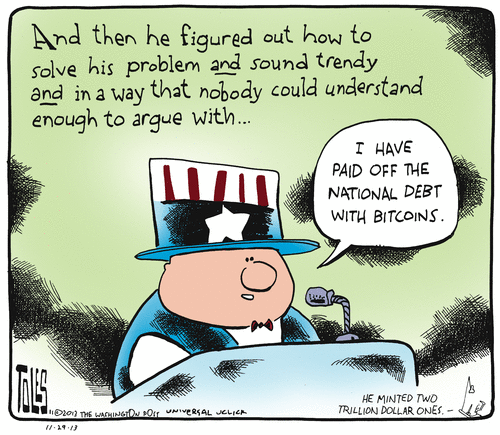 (Tom Toles via GoComics.com)
.
The NYTimes gives Adrian Chen space for a victory amble (cuz hipsters don't lap):
FOR the obsessive followers of the volatile virtual currency bitcoin, the price of a single bitcoin at the time their fixation began holds undue significance. I know one bitcoin cost around $9 when I first stumbled on it in the summer of 2011. That was before I single-handedly sent the price of bitcoin soaring.

I wasn't trying to manipulate an underground economy. I was just doing my job as a blogger for the website Gawker when I broke the story of the online underground illegal drug market Silk Road, on which bitcoin was the only accepted currency because of its relative anonymity. The article went viral and introduced hundreds of thousands to bitcoin…

…[A]s of this writing, one bitcoin is worth around $880. Senate hearings held to discuss regulating bitcoin earlier this month were "lovefests," according to The Washington Post. Abroad, Chinese investors are flocking. Bitcoin seems on the brink of respectability.

Still, there's a zaniness about the currency. Bitcoin is built on a weird mix of the most old-fashioned kind of speculative greed, bolstered by a contemporary utopian cyberlibertarian ideology. Boosters say that bitcoin is the currency of the future. I'd argue that the phenomenon is a digital gold rush perfectly emblematic of the present…
Apart from mocking cyberlibertarian ideology, what's on the agenda as we steel ourselves for another week?