Couldn't sleep, so I am making a late night favorite of mine, a Nissin cup of noodles (shrimp flavor) and watching Justified. My handsome man was looking particularly glamorous in his tree-house (he's taken to it like Forrest to Bubba), so I thought I would take a pic for you all: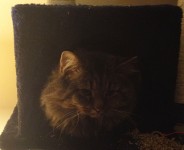 One of my favorite things about Steve is the crazy whisker that is bent. It's been like that since day one. I thought they fell out, but it has always been there, all cockamamied. It's also just crazy to me the physical changes he has made since the seasons have shifted. He now has this magnificent mane (which you can see) that is so wide it now touches the edges of this second story villa in the cat tower. He also has grown these amazing pantaloons on his back haunches- he looks like Puss N' Boots from behind.
And boy does he love a brushing. His coat has fully recovered and he is now a luxurious silky beast. Tunch was much more plush- like sticking your hand into a warm mass of soft cotton. Steve is much more like combining silk and flannel sheets- this long soft fur, but he puts off so much heat.
I just miss Tunch to death and think about him every day, but Steve is a really big personality in a pretty decent sized cat, and I am just so lucky to have the guy around. I often catch myself walking into the room and he is in his treehouse or just lazing on the floor, and I look at all that feline mass and feel like I am White's Charlotte, cuz all I can think is "That is some cat." I just wish he purred as loud as Tunch did.
I seriously am in the market for another Maine Coon. These guys are just crazy cool. I'll give it a couple months because I have a lot of stuff going on, but I would not be surprise if this time next year there is another one in the house.