I am actively working on my photography skills, and here are two from today that I think are better than normal. First, Steve in front of the tv in my office: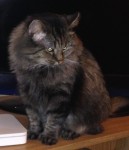 Now here is Steve sitting on top of his favorite toy, a plastic mold with a ball enclosed and a scratchpad in the middle. I used some HDR function on my iphone for this and I have no idea wtf that means, but it made it orange, but it still looks ok for me: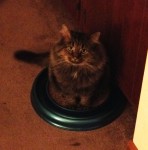 I wish I took pictures as well as Cleek or Tim.