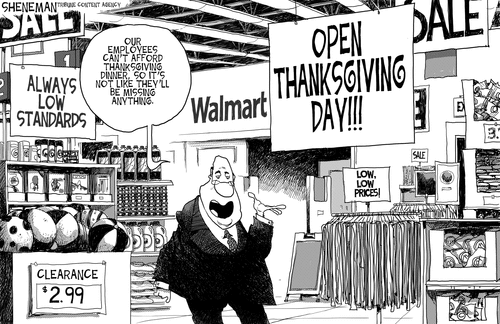 (Drew Sheneman via GoComics.com)
.
In our new improved go-go-go marketplace, I guess the Masters of the Universe don't have time to waste on more than the first few minutes of that Scrooge story. Mr. Pierce calls out a bunch of their enablers:
There are a number of reasons why I pray that Senator Professor Elizabeth Warren ignores the importunings of silly pundits and stays right where she is in the United States Senate for, oh, I don't know, seven terms or so. The most important reason is pure selfishness. She's our senator. You bastids go find one of your own. The second reason, and one that is almost as important, is that she is invaluable right where she is because she is making all the right people completely crazy… It is pretty plain that she's wrongfooted Wall Street poodle Chuck Schumer pretty badly, too…

CSchumer: You don't want to go after them for the sake of going after them. The left-wing blogs want you to be completely and always anti-Wall Street. It's not the right way to be.

TNR: So are the left-wing blogs as bad as the Tea Party ones in this case?

CSchumer: Left-wing blogs are the mirror image. They just have less credibility and less clout.

Sit, Chuck. Roll over. Good dog.

And it's not just Schumer, either. We are hearing from the Ghosts Of Fake Centrists Past (the inexcusable Al From as well as steam- grate philosopher Pat Caddell) and Centrists Present (the Third Way grifters), all of whom warn of the dangers of taking up too loudly for anyone who can't afford to buy them all dinner. We have even heard from Richard Cohen, who is making a strong rush in the final straightaway to have the single stupidest year ever produced by a pundit not named Bill Kristol…
My holiday present to y'all, I've left Richard 'Caligula's Horse' Cohen on the other side of the clickthru, since people may still be eating dinner.
Not a big fan of the 'Democratic Stupidity' tag, but these grifters have earned it fair and square.