So, lighting actually is a solid concept when trying to take pictures: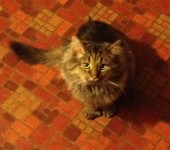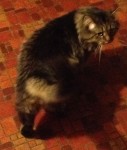 I tried to get a good shot of the pantaloons, but as you can see from this attempt, his paws are black up until "knee" level, and then the floof begins. It really looks like he has pantaloons tucked into black leather boots.
He's also so funny in that he has to play all the time, and if I won't entertain him, that's ok. He'll pick up a bal with his mouth, throw it in the air, bat it with his mitts, and then chase it. Rinse and repeat. For hours.
I really love this cat. I wonder what he and Tunch would have been like together.