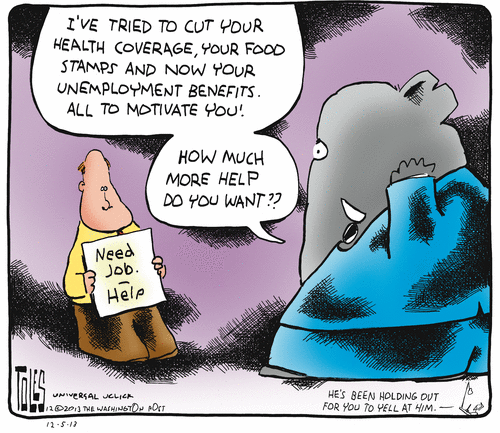 (Tom Toles via GoComics.com)
I'm sure Kay will have more to say about this, but here's early warning on the latest attempt to fully convert America into a Banana Republican paradise. Reports WaPo's wild-eyed progressocommiesocialist Dana Milbank:
… This week in Washington is the annual "policy summit" of the American Legislative Exchange Council, a powerful, secretive organization funded by the Koch Brothers and other corporate interests that is famous for drafting conservative legislation that Republican state legislatures adopt down to the last semicolon. And the news media were invited to attend!

I descended the escalators at the Grand Hyatt downtown, two floors below street level, excited by the possibilities listed on the ALEC agenda:

The environment and energy task force, led by private-sector American Electric Power. The tax and fiscal policy task force, headed by Altria. The international relations task force, run by Philip Morris. The commerce and insurance task force, by State Farm. And the health and human services task force, by Guarantee Trust Life Insurance.

Alas, I was quickly regurgitated from the belly of the beast. Outside the meeting rooms, a D.C. police officer, stationed to keep out the riffraff, turned me away.

"Our business meetings are not open, and so the subcommittee meetings and task force meetings are not open," explained Bill Meierling, an ALEC spokesman. I could wait a few hours and then attend a luncheon and some workshops, as long as I promised not to record them.

But Meierling wanted to assure me that there was nothing untoward about this arrangement, and that it was absolutely not true that the corporations that fund ALEC were behind closed doors, handing their legislative wish lists to the conservative state legislators who then pass them, rubber-stamp style, from coast to coast.

"What you fundamentally need to know about this organization is it's completely legislator driven," he said.

Uh-huh. And ALEC is proving that by keeping reporters from the rooms where the legislators are or are not receiving their marching orders from corporate patrons….
Mr. Charles P. Pierce, at Esquire, links to the Guardian's recent release of internal ALEC documents — including a gracenote that "a draft agreement prepared for the board meeting proposed that Alec's chairs in each of the 50 states, who are drawn from senior legislators, should be required to put the interests of the organisation first, thus setting up a possible conflict of interest with the voters who elected them" — and is quite properly outraged:
… Nobody has any excuse any longer. Reporters — local and national — no longer have any excuse to treat ALEC and its work product as anything more than corporate-funded propaganda designed to exist outside the imperatives of democratic self-government. Voters — local and national — no longer have any excuse that they were somehow fooled by their representatives, who were acting out of loyalty to some distant boardroom and not to the people who elected them. Democratic parties — local and national — no longer have any excuse to keep fro crushing this organization in whatever new guise it chooses to camouflage itself and its agenda. That last part — the "draft agreement" by which state legislators agree to be big old 'ho's for the people who run ALEC — should be politically suicidal. It's long past time to ACORN these bastards in the public mind.
And Emma Roller, filling in for Dave Weigel at Slate, highlights the latest innovation in anti-democracy:
… At this year's conference, ALEC isn't just working to promote conservative state laws, but to dismantle the federal government's control over the states. Mark Meckler, co-founder of the Tea Party Patriots, spoke at an afternoon workshop to sell he and ALEC's latest project: calling for a "convention of states." The way it would work, state lawmakers would use Article V of the Constitution to introduce a suite of constitutional amendments with the goal of severely restricting federal power.

In his new book The Liberty Amendments, conservative talk show host Mark Levin argues that Article V is an "emergency cord" of sorts to restore jurisdiction to the states. To pull that cord, two-thirds of state legislatures—34 of them—would have to meet and propose amendments on the same subject. Each amendment would then have to be approved by three-quarters of the states to be ratified. And therein lies one of the big problems with the project, aside from the small issue of constitutional interpretation—only 27 state legislatures are Republican-controlled.

But shouldn't conservatives be more focused on winning national elections anyway? Michael Farris, a states' rights advocate, made the case that, in order to build grassroots support for Republican campaigns in 2014 and 2016, conservative groups like ALEC must first produce tangible policy results. To rebuild the federal government in its image, ALEC must first destroy it.
ALEC's — the GOP's — greatest success over the last several decades has come from inserting 'grassroot' hardcore rightwingers into local and state elective offices, working upwards from school boards to governorships. I'm not sure whether this new call for "states' rights" is a signal they're ready to go for the big stakes, or a desperate attempt to rebrand after recent funding setbacks. But I think we can all agree that using 'states' rights' as a rallying cry has never led to a good outcome here in these more-or-less United States.