I am seriously working on my photography, and I got the lighting right and worked at a better angle like many of you suggested, so here is a picture of Steve, freshly brushed and catnipped, sitting on the couch next to me extending the paw of peace, love, and harmony: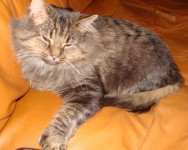 It's a big file if you click to embiggen it, but he's a big cat and worth it. I think my skills are improving.
Plus, you can clearly make out his funky special needs whisker on the right side. It's all broken and bent, and when I first got him I thought something had just happened, but then he lost it, and a new one grew in just the same- all angled and broken. I guess this is the equivalent to Tunch's after-market tail.
He's fucking awesome. He's the Steve.