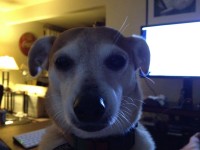 Holy hell you peeps put me through the ringer last night for calling Lily "homely." Y'all act like I beat her instead of love on her 24/7.
But she is homely. She has this narrow bullet like head that you can never keep a collar on when you are walking her, these big bulging pug-like eyes, then this really long snout with a super big wet nose, and all her whiskers are all askew, and she has these uneven alligator like lips, and then beyond her pencil neck is this super long torso with legs that are too long, and then out of nowhere, this curly pug tail. If I had to choose an artist to paint her, I would probably pick a cubist. We all joke about Tunch and his after market tail, but if you knew Lily, you would understand what I mean when I say it looks like she was pieced together with random dog parts. Rosie, by any objective standard, is a far more attractive and proportioned dog.
And I say all this and tell you, with all sincerity, that she is still the most wonderful and beautiful and incredibly gorgeous dog in the world. She is always with me, always beautiful, and always perfect. When she is sitting on my lap and has an itch and starts to scratch, I push her paw away and scratch her myself because I know my fingers can do a better job than her paw. She sleeps every night with her butt in my armpit and my hand on her head so I can scruff her ears anytime I want. Although sometimes Rosie bullies her out of her spot, and Lily will sleep on the pillow next to my head with her legs bracketing my pumpkin sized noggin (If I was a cowboy, I would need to wear a twelve gallon hat).
So back off. No one loves the Lily more than me.