If you keep chickens, you damn well better have a good quiche recipe to deal with the onslaught of eggs: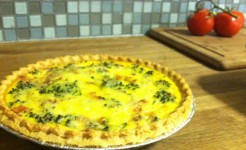 I've got the quiche covered, but I've never had much success with homemade pie crusts, either due to this damnable climate or my own ineptitude as a baker. We can't all be TaMara or JeffreyWW.
When I was making this quiche using a frozen crust, I thawed it out for a bit and then put it in the oven to pre-bake. I know you're supposed to use pie weights or dried beans or something to keep the crust from puffing up, but I never bother with that; I just squish it back down when I take it out of the oven.
Well, when it came time to remove the crust from the oven, I couldn't lay hands on a potholder (the mister had them all outside for some reason), so I used a dish towel to grab it. I lost my grip momentarily, tilting the pie plate at a 45-degree angle.
I thought the crust would cling to the goddamned aluminum, but no: It flew out and shattered into a gazillion globs in the bottom of my oven. Luckily, I had a shop vac handy because we're still completing our interminable home renovations, so I was able to use it to suck up most of the half-raw dough before it petrified into oven-floor biscuit/pucks.
Fortunately, those frozen crusts come in packets of two. Please feel free to share crust recipes or discuss whatever.