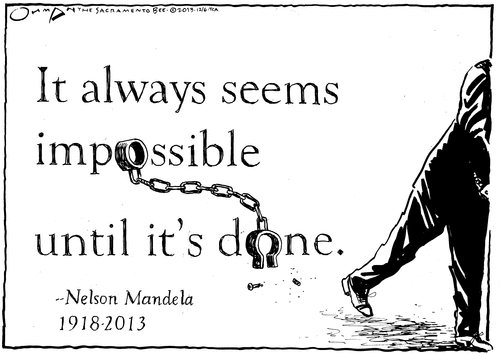 (Jack Ohman via GoComics.com)
.
From the NYTimes, "The Great and the Humble Gather to Honor Mandela":
SOWETO, South Africa — Tens of thousands of people streamed into a huge soccer stadium here on Tuesday along with leaders and celebrities from around the world, braving heavy rain to pay common tribute to Nelson Mandela, the man credited with inspiring the fight against apartheid from his prison cell…

His last public appearance, during the World Cup soccer tournament in 2010, was in the same FNB Stadium that was the setting for his national memorial, midway through 10 days of mourning before his state funeral on Sunday in his childhood village of Qunu in the Eastern Cape.

Mr. Mandela's memorial service is drawing an unprecedented crowd of global V.I.P.s, including at least 91 heads of state and government, celebrities like Oprah Winfrey and the singer Bono as well as royalty including Prince Charles, the heir to the British throne.

President Obama is scheduled to speak, as is South Africa's president, Jacob Zuma. Other speakers will include the presidents of Brazil, India and Cuba….

The national memorial service came 20 years to the day after Mr. Mandela and F. W. de Klerk, South Africa's last white president who negotiated the demise of Afrikaner power, traveled together to Oslo, Norway, to receive a shared Nobel Peace Prize. Mr. de Klerk was among the dignitaries arriving at the stadium on Tuesday for the event along with Prime Minister David Cameron of Britain.
The Washington Post, last Friday:
… In South Africa, where Mandela was affectionately known by his traditional clan name Madiba, the mood was more celebratory than somber after President Jacob Zuma announced the death on national television. Crowds thronged the streets outside Mandela's former home in Soweto, the sprawling township outside Johannesburg that was the scene of some of the worst violence during the apartheid struggle but that has grown into an increasingly middle-class bedroom community.

Longtime newscaster Mathatha Tsedu said on a national news channel, "This is a man who had no unfulfilled missions."…
In today's Washington Post, Temba Maqubela:
No one should have doubted that, in the end, Nelson Mandela would be buried in his village, not in a grand public setting in Johannesburg. For it was Qunu that made Mandela a leader.

I grew up 13 miles from Qunu. In that village, like my own, neighbors nurtured the children who showed promise, celebrating their successes, collecting provisions when they were able to continue their education in boarding school or, more rarely, in college…

To really know Mandela, it helps to understand the concept of ubuntu. The Xhosa word is difficult to define, but it refers to the interconnectivity of one to another. In a Xhosa village like Mandela's, when someone asks, "How are you?" the answer is not "I am fine." It is, "We are fine."…

In Qunu, Mandela lived a life of relative privilege, but in the village culture, that called for an extra dose of humility. His uncle was the acting king of the Thembus, part of the Xhosa people, and young Mandela was present during the many meetings in his village, where he would hear the egalitarian aspirations of elders, absorbing their dreams and frustrations. Mandela also herded cattle, as I and any boy growing up far from the townships did. Humility defined him.

Yet, when Mandela was 33 and heading the Youth League of the African National Congress, he announced publicly during protests on Jan Van Riebeeck Day, a holiday celebrating the whites' arrival in South Africa, that he would someday become the first president of a liberated South Africa. Were these the words of a humble man? Yes—but also the words of a man who realized black South Africa needed energy, and, despite the callous and brutal killings, hope. Those who were fighting against apartheid had, up to that moment, been focused on equal rights. They had not considered for a moment that the highest office in the country could belong to a black….