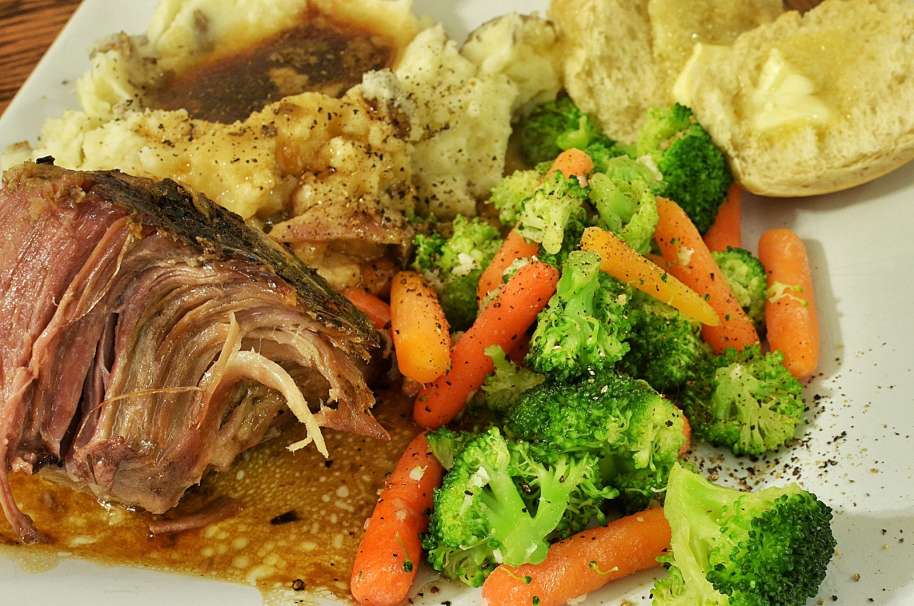 JeffreyW's Slowcooker Italian Pork
.
From our Food Goddess, TaMara:
This has been a busy holiday week, so this is a quick and dirty recipe exchange. But first, I want to take a moment and thank all of you for the outpouring of love on the loss of my cat. They're tiny, they're furry and they really work their way into your heart. I cannot believe how much your comments and emails helped. You rock.

Now back to our scheduled recipe exchange:

This time of year I'm always looking for recipes I can have in the slow-cooker and everyone can serve themselves. My favorite is the featured recipe this week, Portuguese Beef and Pasta, which I usually only make when the extended family gets together.

Slow-cookers are one of the most versatile appliances in the kitchen, you can make a nice pot roast dinner, or recipes as simple as soups and stews. The best part is coming home from work or a day of holiday events and know dinner is ready to go and the house smells wonderful.

For recipes, let's start with JeffreyW's Italian Pork, pictured above and the recipe here.

Then something different, and a childhood favorite meal, Brunswick Stew, recipe here. (Posting this makes me smile, because the last time I posted the recipe, commenters informed me that REAL Brunswick Stew is made with squirrel. You're welcome to substitute as needed).

And finally, a Chunky Vegetable Soup, recipe found here.

What's on your menu this weekend? Any fun holiday plans? I have a couple of things I'd like to do – Zoo Lights or Blossom Lights (at the botanical gardens) and the Christmas parade.

What are some of your favorite meals around the holidays? Do you have go-to recipes when the family descends?

I really like tonight's featured recipe because it is very simple, but so very tasty. If I make it when the family gathers, I always double it. The recipe below serves 4. This is a great recipe to make and let everyone help themselves when they are hungry. I toss the pasta with olive oil and put it in the refrigerator and leave the beef simmering in the slow-cooker on low for the entire day. They mix the two when they are hungry. I must say, the longer the beef cooks, the better it gets. It's always a hit with everyone.

Portuguese Beef & Pasta

1 lb round steak, cut into thin strips, remove excess fat
1 tsp salt
¼ tsp pepper
1 onion, thinly sliced (reserve ¼ for beans)
1 green pepper, cut into thin strips
1 tsp crushed garlic
6 oz can tomato paste
2-14 oz can diced tomatoes
1 cup water
1 bay leaf (remove before serving)
½ tsp crushed red pepper
8 oz dry macaroni**
Slow-Cooker and saucepan

Add beef, salt, pepper, onion, green pepper, garlic, paste, diced tomatoes, water, bay leaf & red pepper to Slow-Cooker. Cook according to manufacturer's directions (usually 8-10 hours on low) until beef tears easily with a fork. In saucepan, cook macaroni according to package directions. Drain well (you don't want any water in your beef mixture) and mix beef and pasta in serving bowl.