Nothing that a couple bites of cookie dough, some ice cold skim milk, and a little bit of Steve lap therapy while watching the opening monologues of past Daily Show episodes can't cure.
I hope the car is ok, but if not, what really matters is my kid was ok.
Gotta have the right priorities in this shit. It's funny how much easier that perspective comes the older you get. Or after holding a lifeless pet in your arms as his broken neck flops around in the nook of your elbow. I'd trash a car every fucking day to have Tunch back.
Stuff can be replaced. People and pets can't.
*** Update ***
Can't sleep. Here's a shot I took of Steve not five minutes ago: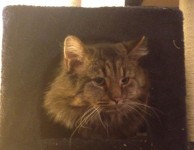 I just can't get over how magnificent his mane is in the winter. I really hit the cat lottery again. And I just love the crazy whisker.