My mother always names her cars, and as this was her car before she sold it to my sister who then sold it to me (because my working philosophy with cars is "DOES IT RUN? IS IT SAFE? CAN I JUST GIVE YOU 4K IN CASH?). She always gives Duncan as the first name, the R. stands for my mom's maiden name, and Ruby for the color, and Dundee because it was a 97 Outback (Crocodile Dundee, anyone?). Here the chariot sits in the middle of the field, sad and cold and alone after 17 years of dedicated service to the Cole family: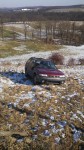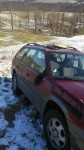 Oddly enough, the car flipped and rolled twice, over a fence, and ended up upright, and not all the eggs were broken. So well done Subaru and egg carton engineers.
Some of you don't seem to understand what happened. He was driving north on 88, and on the passenger side of the car there basically is no shoulder. It's a drop-off into a pasture: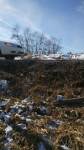 See where the white car is? That's the road, and it immediately drops off. So a convoy of truckers came in the other direction, over the fucking yellow line again, and he moved to the right, catching the passenger side tires on the lip. He braked, tried to get back on the road, and the car shot across both lanes before he over-corrected and the ass end tailed. At that point, this car is starting to flip and is tipping on both wheels on the driver side, which blow out. He rolls twice, and the car lands down the embankment in the pasture facing the road.
It's fucking amazing he was not hurt, it's amazing the air bags did not employ nor no windows broke, potentially lacerating him, and it's amazing how little external damage there is to the car. Having said that, the car is clearly totaled, and even if they say it could be repaired, I think I am putting the old guy out to pasture (no pun intended). He did his job. He safely served the Cole's for three decades (17 years, pedants, spanning three decades, not having this argument again tonight), and then saved my boy's life.
There is a mechanic at the Subaru dealership who has the same exact make and model and we have talked about how much he loves the car (and I do to), so I figger I will offer it to him as an organ donor for his car for a couple hundred bucks. Since he did the work on the engine rebuild a year back, he knows what he is getting.
Adios, Dundee.
*** Update ***
I forgot the funniest part, sort of. The car is still there, because I only got hold of the farmer at 8pm. He basically said that you aren't the first and you won't be the last, and I've been yelling at that sheriff for a guard rail for 25 years. I told him that the car ran but had no tires, and I checked and it was not leaking oil, coolant, transmission fluid, or gas, and he said it's not doing any harm there, and I'll just keep the cows in the other pasture down the hollow and feed them there, and they won't come up anyway because of the snow. Then he said something that made me almost laugh- "I'm retired, so just call me whenever and I'll be there to talk to the tow truck guy." I found that funny because the guy is retired and still getting up three hours before all of us to trudge down a hill and feed a bunch of livestock. I think I have never felt lazier.
At any rate, we're supposed to get a mess of snow tomorrow, and we both decided it made no sense to bring a big wrecker out and endanger him as we block traffic on a blind curve and maybe cause other accidents, so we are just going to let it sit there in the field until Monday afternoon. He aid the only way it is an inconvenience is because his friends keep calling to tell him there is a car in his field. He's going to string up some wire just in case the cows get weird, and I am going to make a big sign to let people know that they can stop calling 911. I had to call Sheriff Jackson today and apologize for all the calls, because while I was waiting outside the farmhouse for two hours today to try to find someone, I saw dozens of people slow down to an almost stop, so I knew they were getting a ton of calls.
West by God Virginia. I never want to live anywhere else.