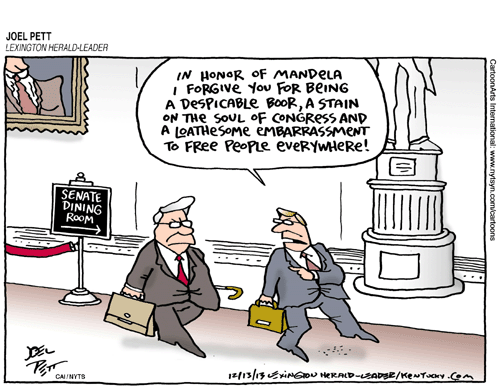 (Joel Pett via GoComics.com)
.
Shamus Khan, in the NYTimes, explains that actually "We Are Not All in This Together":
… In the postwar period the rich found themselves in a quandary. Their wages and their membership were static. They needed to resuscitate themselves. This required allies who shared a basic concern. The rich thought, not incorrectly, that high tax rates were handicapping their capacity to advance. And they found common ground with suburbanites who didn't see social spending as something that enhanced their lives and neighborhoods, but as something that transferred their tax dollars to a different kind of American — urban, of a notably darker hue — who had only recently gained political legitimacy. Through a tax revolt these groups went to work dismantling social programs.

They were terribly successful and they helped turn America on its head. Since the late 1970s, it has been average Americans who have experienced comparative wage stagnation and who are more likely than their parents to stay in the same economic position. For the rich, the story is the exact opposite.

Let's say you're fortunate enough to be in the top 1 percent of American families; at a minimum you make almost $400,000 a year. Things aren't just good; they seem to keep getting better. While the median American worker received about a 5 percent wage increase since 1979, your raise was above 150 percent. From your perch, even when you look at people right below you in the top 5 percent, you find that the rate of your wage growth is much greater than theirs….

If you're an average American, you don't see this at all. It's been more than 30 years, and you've barely seen a drop trickle down.

This helps us better understand why it is that the rich and the rest see the world differently, and why it's difficult to develop political movements based on economic solidarity. We can think of elites as selfish, power-hungry monsters, or we can think of them as being like others: products of their particular experience and likely to overgeneralize from it. Elites understand their own world well enough. Yes, they underestimate the advantages that helped them along the way and overestimate their own contributions to their status. But they are not wrong to think that for them there is more mobility and growth today than there was a generation ago. What they do not see (or care to see) is that for others, stagnation is the new normal…

… We are not in this together. We need to get back to what made America great, when the many and not the few were winning. To do so we must stop conflating moral arguments with economic ones. Instead of operating under the fiction that we will all benefit from a proposed change in economic direction, let's be honest. If a few of us are better off, then many are not. If many are better off, then the few will be constrained. Which world would you rather live in? To me the answer is obvious.
***********
What's on the agenda for the start of another week?