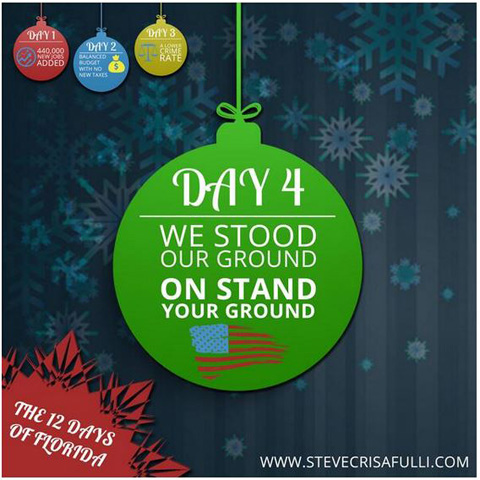 The above graphic is an actual thing someone created for Rep. Steve Crisafulli, who will be Speaker of the House in the Florida legislature next year. The future speaker commemorated the upcoming birthday of Baby Jeebus by bragging on Twitter that the state's wingnut-supermajority legislature retained the law infamous for allowing a deranged serial domestic abuser to stroll out of a Florida courtroom a free man after shooting an unarmed teenager dead.
The "stand your ground" issue here in Florida is inextricably connected with the Trayvon Martin case; it's just not possible to bring one up without implicitly broaching the subject of the other, at least not now, and certainly not in the context of the recent legislative review Crisafulli references. While I think SYG is a terrible law and the outcome of that trial was a grave injustice, I get that there are other ways of looking at it, in a "gosh, it's a shame that happened, but we still need the law" sense.
But to slap that slogan on a Christmas ornament image and push it out there as a celebratory message for the people of this state? Including the Martin family? That's just plain sociopathic.