All the piglets are fed, walked, freshly shatted, and luxuriating: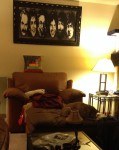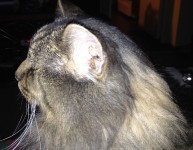 Actually felt guilty today because Steve has so much taken over the house that I realize it had been about a week since I had gotten upset about Tunch. He's really a magnificent specimen, and every time I look at him I keep waiting for Charlotte to write "SOME CAT" over his head.
I really want another Maine Coon, Steve has turned out to be so awesome. My sister is in town for Christmas and she finally met Steve (she lives in Connecticut) and thought the name sucked until she met him, and he came and loves all over her, and she said "Now I get it. He is a Steve."
Yes, he is. He's a band cat beyond description.
*** Update ***
The other funny thing is I thought a lot of Maine Coon cats just looked sloppy with their long, unkept hair, and I liked the look of Tunch, with his pristine white plush fur and his delicate little paws. Now, I look at Steve sauntering in with his enormous mane and floofy coat and dramatic 7 and 6 toes respectively, and when I see other cats, I think they look funny- "What happened to that cat's toes? It only has 4?"