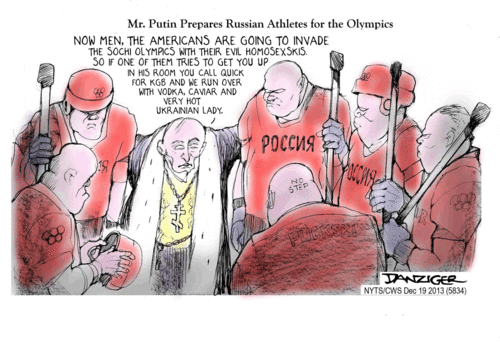 President Putin seems determined to convince us that Russia, like the universe, is not only stranger than we imagined but stranger than we can imagine:
MOSCOW — Russian President Vladimir Putin on Friday signed a decree pardoning jailed tycoon Mikhail Khodorkovsky, the man who has been described as his archrival.

Khodorkovsky has spent the past 10 years in prison on charges of tax evasion and embezzlement. His arrest in 2003 and the subsequent prosecution have been widely considered to be Putin's retribution for Khodorkovsky's political ambitions…

The development — along with an amnesty for two jailed members of the Pussy Riot punk band and the 30-member crew of a Greenpeace protest ship — appears aimed at easing international criticism of Russia's human rights record ahead of February's Winter Olympics in Sochi, Putin's pet project….
In Slate, Masha Gessen, "Russian-American journalist and the author of the forthcoming Words Will Break Cement: The Passion of Pussy Riot" offers her opinion:
… Western leaders were unconvinced at first that staying away made sense. Behind the scenes, there was much talk of a potential backlash… While the leaders of the free world dithered, Putin kept pushing his luck. He rejected an amnesty bill that would have freed Khodorkovsky. Then Russia kidnapped about 30 Greenpeace activists in international waters and, when the Netherlands filed suit in the International Tribunal for the Law of the Sea, refused to recognize that court's authority. Russia recently announced, in effect, that it was no longer going to recognize even the authority of the European Court of Human Rights, some of whose decisions it had been grudgingly carrying out…

Putin panicked. On Wednesday he allowed his own version of an amnesty bill, which came before parliament that day, to be amended to cover the Greenpeace activists. The following day, he said he intended to pardon Khodorkovsky. There is every indication that this was unplanned. He made the annoucnement after the end of his annual press conference, during an informal chat with journalists. He made reference to a clemency request that Khodorkovsky had supposedly written but of which neither his family nor his lawyers were aware. Not even the clemency officials who would have processed such a request had ever heard of it.

Does that mean there will be no backlash to the snub? Probably not. Putin's ongoing crackdown on civil society will likely intensify significantly after the Olympic closing ceremony is over. Like a schoolyard bully who has been temporarily overpowered, Putin will lash out again as soon as he feels he can…
And NYTImes sports reporter Juliet Macur assures us there's still plenty of opportunities for Olympian trouble, in Sochi and afterwards:
… When I.O.C. members chose Sochi seven years ago to play host to the 2014 Games, they should have known that they were asking for trouble. Anyone who was paying attention back then knew that choosing Sochi had its drawbacks, not the least being that it is in the Caucasus region, one of the world's most troubled hot spots. The Olympic Village is about five miles, walking distance for some, from Abkhazia, one of two breakaway regions of Georgia that ignited a war between that country and Russia in 2008. The restive region of Chechnya is also pretty much just down the road…

If the I.O.C. chose its cities more carefully, perhaps we would not be wondering whether athletes should be worried about showing their support for gay rights when they are in Russia. Of course, a couple of more votes for Pyeongchang seven years ago and we might be talking about the security issues in that city, which is close to unstable North Korea. Not much better, right? But we will have a chance to worry about that, anyway, because the I.O.C. chose Pyeongchang, over Munich and Annecy, France, to host the 2018 Winter Olympics…

On the immediate Olympic horizon is Sochi, then Rio de Janeiro in 2016. Already, the decision to give Rio the Games has become an issue because the city has been evicting poor residents of some of the country's biggest slums to make way for Olympic construction…
Kudos to President Obama for doing the right thing, and especially to all the LGBT activists who called for protests/relocation/boycotts even as the Sensible Moderates assured them any action would be (a) useless and (b) counterproductive. Sometimes you really do have to ask for the "impossible" in order to get the merely difficult…