We've got two headliners today.
First up, child labor cheerleader Jack Kingston, a congressman from Georgia now looking for a promotion to the Senate, claimed that he's no hater of the poor for saying this:
"Why don't you have the kids pay a dime, pay a nickel to instill in them that there is, in fact, no such thing as a free lunch? Or maybe sweep the floor of the cafeteria — and yes, I understand that that would be an administrative problem, and I understand that it would probably lose you money," Kingston said at a Jackson County Republican Party meeting, according to video surfaced by the Huffington Post. "But think what we would gain as a society in getting people — getting the myth out of their head that there is such a thing as a free lunch."
But nah, that wasn't aimed at shaming and constraining the poor, swears Kingston (R-eternally misunderstood).  Rather,
"This is not targeted to any one group," Kingston said. "It would be very helpful for kids in any socio-economic group to do chores and learn the work ethic….I never did say poor kids."
Over to you, M. Anatole France: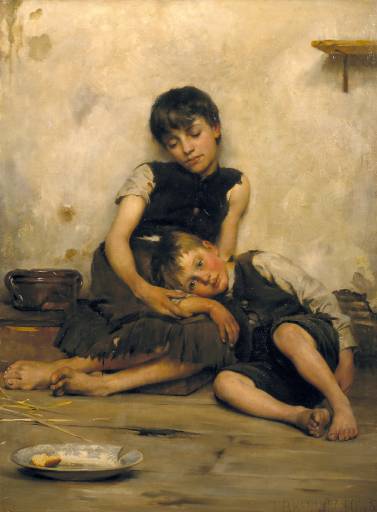 The law, in its majestic equality, forbids the rich as well as the poor to sleep under bridges, to beg in the streets, and to steal bread.
And then there is that noted scholar of the Civil Rights era, Ian Bayne, a Republican candidate running for the nomination to challenge Rep. Bill Foster, an actual smart person and a Democrat representing Illinois's 11th district.  Mr Bayne identifies the ties that bind two characters most observers of lesser penetration would never have uncovered:
"In December 1955, Rosa Parks took a stand against an unjust societal persecution of black people, and in December 2013, Robertson took a stand against persecution of Christians," Bayne wrote in the email. "What Parks did was courageous."

Bayne added in the email that "what Robertson did was courageous too."
That would be Duck Dynast Phil Robertson, who, as we all know, is convinced that African Americans with whom he worked in the pre-Civil Rights era were, as he put it "Pre-entitlement, pre-welfare, you say: Were they happy? They were godly; they were happy; no one was singing the blues."  And who says in the context of a current civil rights struggle, that gay men and women are bound not for equality before the law, but for Sheol:
"Don't be deceived. Neither the adulterers, the idolaters, the male prostitutes, the homosexual offenders, the greedy, the drunkards, the slanderers, the swindlers–they won't inherit the kingdom of God. Don't deceive yourself. It's not right. [via Ta-Nehisi Coates]
So, let's recap:  Rosa Parks risks jail, bodily harm, quite possibly death to secure the minimal rights of citizenship for Americans who have been subjugated through a reign of terror for a century since the end of outright chattel slavery.  Some guy spouts hate at blacks and gays.
Just the same.
Ladles and Jellyspoons:  Your modern GOP.  A party that does not vomit out such characters cannot be allowed anywhere near the reins of power.
Or, as my man Cato would say, Factio Grandaeva Delenda Est
Image: Thomas Kennington, Orphans,1885.