(Late because Anne Laurie messed up!)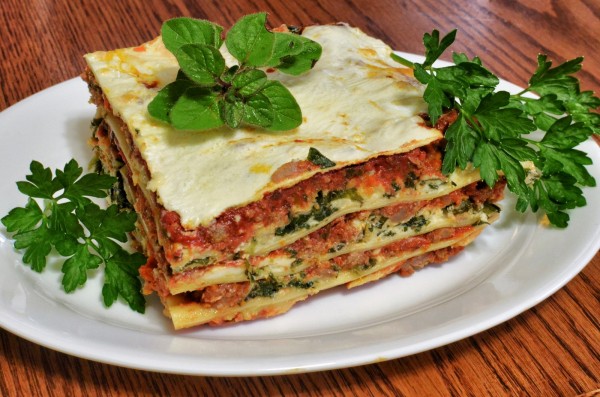 From our Food Goddess, TaMara:
Once again I am hosting Christmas Eve dinner. I try and keep the menu simple because I have a small kitchen and I like to spend time with my guests. I'm actually doing much of what I did last year, because it worked so well. The menu will serve as tonight's recipe exchange. Thanks to JeffreyW for making lasagna this week so that I had an awesome photo to use tonight.

Christmas Eve Menu:

Appetizers – Herbed Tomato Crostini (recipe here), vegetable tray

Main Event – Spinach Lasagna (recipe here), Salad, Cheesy Garlic Bread

Dessert – Truffles (featured recipe below), Peanut Butter Cookies (recipe here) and everyone's favorite, a Sundae Bar

With the exception of the garlic bread, because I'm using gluten free noodles, the entire evening is gluten free and vegetarian. Everyone should be happy.

Dinner is at 6 pm, bring the wine.

That takes care of Christmas Eve, but what about Christmas day? How does this sound:

German Pancakes with Walnut Syrup (both recipes here) for breakfast and a Roast, Garlic Mashed Potatoes and Glazed Carrots for dinner (all those recipes are here and tips for perfect mashed potatoes are here).

How are your holiday plans coming along? Do you have a crowd coming? Share your favorite holiday recipes in the comments, I'd love to see what you prepare.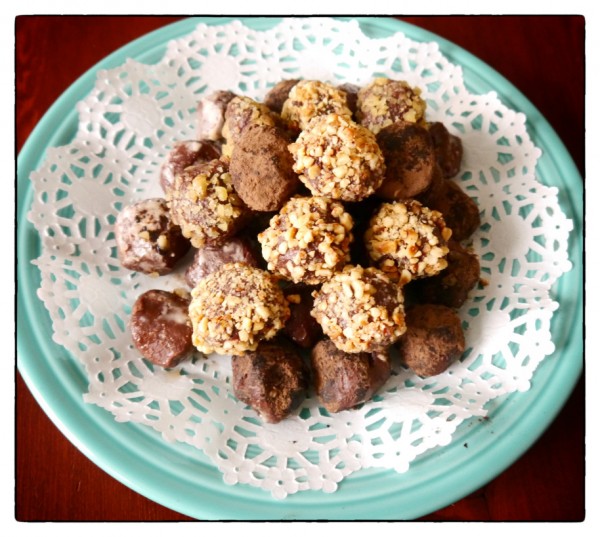 Now about those truffles. This was the first time I'd made them, though I'd thought about it for a while. How hard could it be? It's basically ganache, right? That was very simple to make. The pain was making the actual truffles, a bit of work and very messy. But I think it was worth it and I'm sure the guests will enjoy them.

Here's the basic recipe, I then added pieces of walnut to the center of some, hazelnut to others and rolled them in either crushed walnut or hazelnut. The rest are rolled in either dark cocoa and powdered sugar. The powdered sugar kind of melted into them, so I'll probably dust them quickly right before I serve them.

Chocolate Truffles

1/2 pound good bittersweet chocolate (I use 60% Cacao Bittersweet Chocolate)
1/2 pound good semisweet chocolate
1 cup heavy cream
2 tbsp Grand Marnier, (optional)
1 tbsp prepared coffee
1/2 tsp good vanilla extract
Powdered sugar
Cocoa powder (I used dark)
Nuts, whole and finely chopped (optional)
baking sheet, parchment paper

Heat the cream in a double boiler until it's hot, not boiling, and then add chocolate chips. Whisk together until fully melted, then remove from heat. Whisk in the optional Grand Marnier, coffee, and vanilla. Set aside at room temperature for 1 hour.

Spoon a dollop of the chocolate mixture onto a baking sheet lined with parchment paper. Refrigerate for 30 minutes, until firm. Roll each dollop of chocolate in your hands to roughly make a round ball. Roll in powdered' sugar, cocoa powder, or both.

Makes about 48.

These will keep refrigerated for weeks, but serve at room temperature.