I'm an atheist, as you all know, but I really don't get the point of this nonsense. Here's a billboard on display in Times Square this year: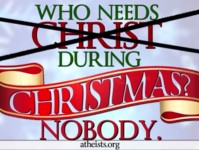 I thought one of the real benefits of being an atheist is that you didn't have to get into pitched battles with people about what they believed in- I didn't realize that because I don't believe, I have to choose some side and work to convince people there is no God. That's not what I signed up for. I just thought the whole thing was nonsense, and left it at that. I didn't realize by taking that stance I had to actively work to convince other people there is no God. What's the point in that, and why is this good for me and them?
I don't believe in a lot of things. I don't believe in unicorns or Santa Claus, but I don't feel like i have to go out and actively work to persuade people they don't exist. Why do I have to take on this endeavor?
Now don't get me wrong, I'll be as uppity as all get out when the religious nuts decide they think their deity should dictate how I and my friends live, but otherwise, I really don't care- as long as you are not affecting me, whatever blows your trumpet, I say.
And is there any other group in the world other than atheists.org whose organizing principle is not believing in something? Whole thing just seems weird and counter-intuitive. Basically, being an atheist isn't a license to be a total fucking dick.