I had a very Cole day yesterday. I was rushing around to wrap up a few DIY projects before we're overrun with holiday guests. One of my projects involved a quart-size can of white enamel paint, which I located on the only shelf in the house that's a challenge for me to reach (I'm tallish).
The shelves in the laundry room are those hideous wire bracket things; I could just touch the bottom of the can through the shelf if I reached up on tippy-toes, so instead of dragging a stepladder out, I used my fingertips to scoot the can toward the edge. I totally had a workable plan for catching it so it wouldn't drop on my head.
What I didn't account for was the small can of varnish that was on top of the paint can, because I didn't know it was there. When the paint can tilted, the varnish can slid off: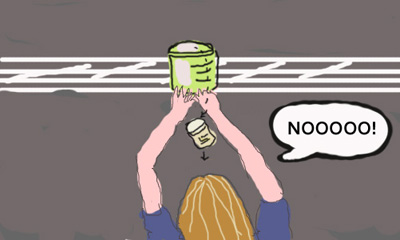 Usually, my ninja-quick reflexes would allow me to block such an assault, but both hands were at that moment occupied with keeping the larger paint can from falling on my head. Consequently, the varnish can dropped about two feet and bounced off the bridge of my nose.
So now I have Liam Neeson's nose for the holidays. I'm making the best of it, telling anyone who says, "My GOD, what happened to your NOSE?" that I got into a fistfight over the last Furby at Target.
That's not all. While grouting some tile later that morning, I leaned onto an overloaded trowel and momentarily encased my boobs in concrete. (Sorry, no illustration.) I was wearing a raggedy-ass tee shirt at the time, so no harm done.
But because this type of mishap isn't so unusual in my life, I forgot all about it seconds later, and when I ran out to the grocery store shortly thereafter, I just threw a ratty old flannel shirt on over the tee shirt and didn't notice until I was in a store chock-full of my fellow residents of this very small town that I was, in effect, sporting a concrete bra for all the world to see.
Come to think of it, that last thing probably wouldn't happen to Cole. Even if he has the requisite cup size, he also has the good sense to outsource tiling projects.