Just sort of sitting here doing not much of anything, but before I start to ramble, this: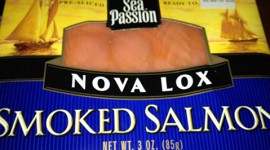 Now I know I am a dumb hick from West Virginia and fully recognize that I do not know all the nuances of lox and smoked salmon and nova lox, but all this hillbilly can do is honestly report what is on the fucking package of the product he is eating. There is NO Jewish community around here, so a lot of foodstuffs you all take for granted (kosher dogs and pickles, bagels, etc.) just don't exist in high quality here. I love the stuff when I can find it, but I deal with what I got here. So if you all want to have a big debate about what I actually ate and everything, fine, but I'm just reporting what was on the package. The only other option was Gravilux, and it was sold out. So I danced with the girl who brung me, and it tasted ok. I'm sure one of you will inform me it was farmed under slave labor and I just ate five years worth of mercury and PCB's, but shit happens.
Also, fuck you for making me defensive about this.
At any rate, just sitting here with the piglets. I was watching a little Lilyhammer before I realized I could actually watch the Boise State game because it was in Hawaii and not on that god damned blue turf. Why is that allowed? It's just criminal and hurtful on the eyes.
Whatever, get off my grass. Happy Holidays.