Just had an everything bagel with cream cheese, nova lox, capers, finely sliced red onion, tomato, and salt and pepper, and it was delicious. The only thing missing was the sprouts, which I haven't been able to find in the grocery for months and may just start growing my own, because I love them on sandwiches, bagels, salads, and what not. At any rate, caught Steve in a cute pose (on top of the weapons grade catnip), so I screwed around with the lighting (translation, I went from cave mode to actually turning some lights on) and took some pics: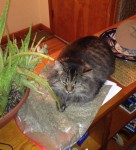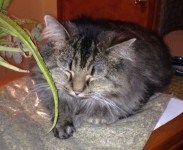 I forgot to turn off f.lux while editing those pics, but I still think they are probably better than my norm because they looked ok on the iphone. Whatevs. Someone will criticize something no matter what because this is the fucking internet.
Today was a good day. My youngest sibling, Anne, is in town from Connecticut, and we don't know each other very well because by the time I was 16 I was pretty much out of control, and she was only ten, so all she remembers is me and dad going at each other (in equal parts because I was an out of control asshole and because he and I are too god damned much alike in many regards- although he will quickly point out that I did not get his cleanliness gene or sense of modesty and public decency or work ethic or sense of morality or a sense of urgency and I'm also a heathen atheist with a filthy mouth and who the hell leaves their car in a field for ten days. Other than that, I swear to the fucking Flying Spaghetti Monster, we are a lot alike.), so we went for a manicure and pedicure together.
She's always bitching that she doesn't REALLY know me, and for at least fifteen years, mom, dad, Devon, Seth, and I have been trying to convince that not REALLY knowing me is not an altogether bad thing, because I'm at my core kind of an asshole. I mean, I do nice things and do have a big heart, but I'm basically hiding the fact that the first thing I do when I meet someone (YOU) is judge the fuck out of them (YOU) and usually deem them (YOU) unworthy and then spend the next few moments trying to figure out how to not interact with them (YOU) ever again and how long it will be before I have a cat or dog on my lap. And by YOU, I don't mean Anne, I mean every single human being I encounter every day. That's just where I am anymore, and I'm sorry, kind of, although Anne did tell me that mom thinks I am a curmudgeon, because Anne asked me if "curmudgeon" was a real word. And that was when I found out how my mother really feels about me.
At any rate, despite all that, it was a fun time, although apparently I am too quiet and don't talk enough, and that can be interpreted as unfriendly, and that when someone says to you "Don't you ever talk" the response "I try not to talk unless I have something to say" can be interpreted as snide and hostile, so try to keep that one out of your mental conversational playlist, gentleman.
I guess I am rambling. At any rate, nice to see the sister, nice to have new sparkling clean and well shaved hooves, nice to have a fat cat in the house and a dog on my lap, and nice to be sort of in the holiday mood.
Also- watching Lilyhammer late night on Netflix is a beautiful thing. Oh, and you should see this fucking beautifully fat bone in pork shoulder I picked up today. It's hard to find fat on a pig like that these days, they've been bred to be so lean to compete with chicken and turkey and what not.