That's all I thought of when I was cropping this Tunchesque picture of Steve from a few minutes ago: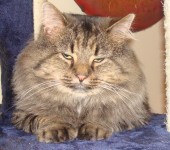 And here is sweet Lily: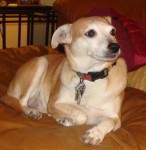 Her nails are so long I am embarrassed to post that picture, but I broke my nail cutters and we have not been to the vet in a while.
Oh, and this is where the picture of Rosie would be if she hadn't seen me grab the camera and turned around and went into the bedroom under the bed. Guess she just decided she was having a bad camera day. God damned willful Jack Russell Terriers. Say what you want about cats, JRT's own your ass. You are quite simply never going to do anything they don't want to do without a lot of planning and deceit and then hurt feelings all around.